Whitney Knitter shows us her workspace for electronics based in New York, where she deals with projects for FPGA, SDR and DIY electronics.
Living in New York and London, I experienced the frustration that comes with being on the subway. That's why the title of Whitney Knitter's YouTube video, "Track the subway in New York using the FPGA, "caught my eye. After learning about this project, I visited her website Knitronics and read that she had worked on several interesting FPGAs and software-defined radio projects. In this Questions, she talked about her New York-based workspace and She proves that you do not need thousands of square meters of laboratory space to build and test electronic systems and tools.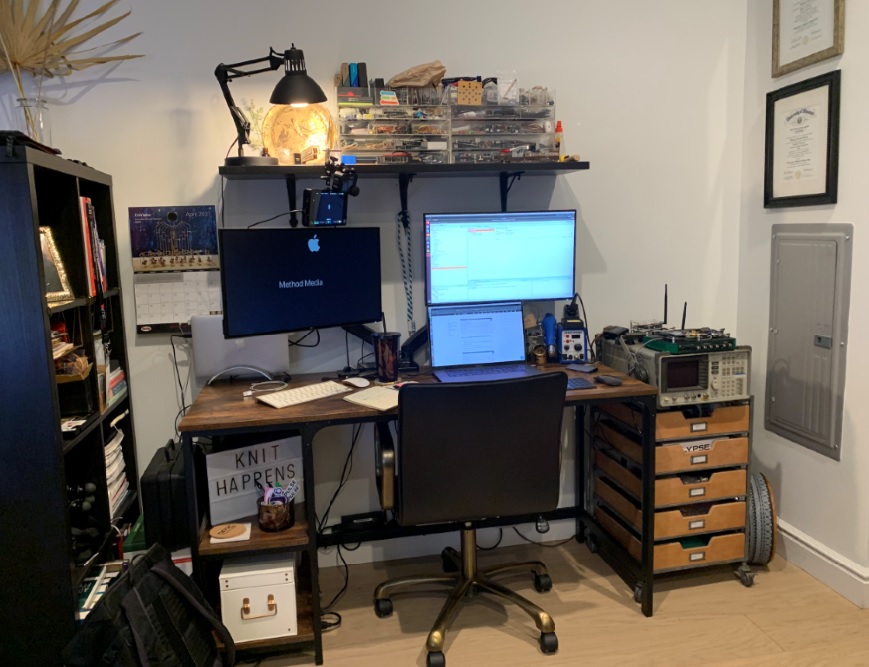 Tell us about yourself. What are you working?
I am currently working as an FPGA Software Defined Radio Engineer and also run an electronics tutorial blog called Knitronics, where I post mainly to get started with FPGA and current news in the FPGA domain.
I came across your work and your workspace while researching FPGAs on YouTube. Tell us about your space. How would you best describe it? Where is?
My current desk is the perfect combination of functional and comfortable apartments in New York. It is compact but efficient with a complete soldering station and test equipment setup. I use it for a combination of mostly electronics / FPGA work and some light woodworking for a Halloween project. The home laboratory bench lives in my one-bedroom apartment between the living room and the kitchen. Part of that was strategic, so my coffee machine is always nearby.
What were your main requirements when setting up your workspace?
As I mentioned earlier, my main requirements were the maximum efficiency, inscribed in the smallest footprint, so that I could support both my professional and blog projects. All my projects are somewhere in FPGA or software-defined radio (SDR) domain, so they need test equipment such as a logic analyzer, oscilloscope, waveform generator and signal analyzer. Most of the time I also need to solder custom circuits on the perfect board for custom FPGA breakers. So, I looked for test equipment that was compact and skipped the built-in screens in favor of a GUI that could run on my computer. I also bought a removable equipment storage cabinet and turned its top into a permanent test equipment setup where I can leave the project setup and just flip the whole thing aside when I have to use the main desk for something else.
Let us turn to your technical interests. Tell us more about the types of projects you are working on in your space.
Throughout college, I have always chosen elective courses in digital logic, analog circuits and RF. This continued in my professional work, where I dealt with FPGA and SDR design. I started the blog as a way to document things when I finally realized something I was stuck on, to have it for myself, to refer to it in the future. I think I once posted a link on Twitter and it flew out of there.
What kind of equipment and tools do you have on hand?
I have a full soldering station, CRT display signal analyzer, ADP3450 (universal USB oscilloscope that has a built-in oscilloscope, wave generator and logic analyzer), almost any type of USB cable you can imagine, a cabinet for electronics parts available (resistors, capacitors, inductors, transistors, mock-up, perf board, servo motors, jumper wires, screwdrivers, etc.) and a large stock of various boards for FPGA development.
Your most valuable tool or equipment?
My most important / valuable tool is my 16 "MacBook Pro running Ubuntu. Maxed with 64GB of RAM and graphics, it handles everything I can throw at it with Vivado. I also found a way to run Ubuntu in a virtual machine using Parallels, so back up directly to iCloud in real time as each file is edited, so I haven't worried about losing a file in a long time.I know Mac isn't the most popular choice, but I haven't found anything else to backs up and syncs my files the same way iCloud does.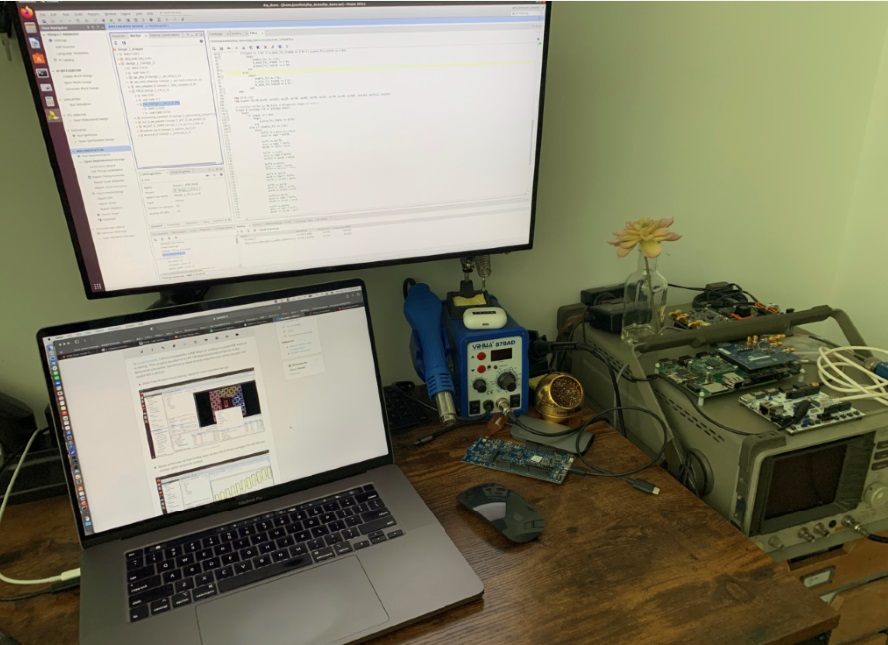 It's amazing that you've managed to set aside enough space in an apartment in New York. Is there anything special or unique in your space?
The mobile file cabinet I mentioned earlier changed the game. Before that, I had to constantly demolish my projects and set them back, because I needed a desk for other things (ie switching between work projects and blog projects). With a removable cabinet that has test equipment fixed on top, it means that I can leave one project on it, while at the same time I can move the file with test equipment to switch the connection to the other project. Fully cleaned parts drawers have also made life easier when looking for them. The clear drawers I found were originally designed to store makeup.
Do you have plans for the workspace?
I plan to build some custom shelving on the test equipment of the mobile cabinet so that several projects can live on it at once.
Do you have a favorite project related to electronics? What did you build and why did you build it?
I think my favorite project so far is the FPGA-based web server I created for a local cafe so they can have a digital menu after the pandemic. I also added an image processing webcam so customers can also see which cakes are still available while browsing the menu.
Can you tell us about any projects you have?
I am currently working on several projects, including updating my Halloween project from last year (the Ouija electromagnetic board), reviewing new FPGA boards and several partnerships with exciting companies such as Edge Impulse, Xilinx and Digilent.
Do you have a dream project?
I would like to display my own FPGA board with all my favorite peripherals and the Knitronics logo on the silk screen.
Can you share some tips, hints or encouragement for other engineers who are thinking of creating a workspace?
Doing things at home is the best way to stay ahead at work. It gives you free space to figure things out on your own, without any pressure. In the end, you will surprise yourself with what you can do when you challenge yourself and you need to have the right tools to succeed.
---
Do you like to learn where other engineers and manufacturers work on electronics projects? look at them
electronic workspaces
.
---
Where do you work on projects with FPGA and SDR? Show us!
Want to share details about your workspace with the global community of Elektor engineers, students and manufacturers? Take a few minutes to fill out this form so our editors can contact you!