Microsoft has released Windows 11, a refreshed version of the operating system with internal improvements but tarnished by onerous system requirements and usability shortcomings.
Windows 11 is the operating system that Microsoft once hinted it might never release, saying back in 2015: "With Windows 10, the experience will evolve and get even better over time. We'll deliver new features when they're ready, not waiting for the next major release. We think of Windows as a Service."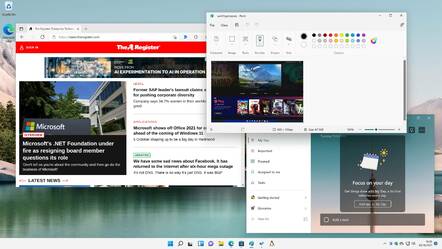 Windows 11 is now released
Microsoft never quite said that Windows 10 was forever, though, and Windows 11 represents the moment when the company decided that a combination of technical advances and design refresh merited a new major version. One reason for the new release is to improve security and reliability – though this has also provoked a storm of protest since it depends in part on recent hardware, causing the majority of PCs in use to be incompatible.
What are the new security features?
It may seem odd that the docs say that "the security and privacy features in Windows 11 are similar to Windows 10."
The quick summary is that the Windows 11 has a new security baseline similar to the Secured-Core PC security baseline, including hardware root of trust via TPM (Trusted Platform Module] 2.0, Secure Boot, hypervisor-protected code integrity (HVCI) and hardware-enforced Stack Protection.
Virtualization Based Security (VBS) is now a requirement, as explained by director of OS Security David Weston here. In other words, features that were optional in Windows 10 are now on by default – which means that hardware that does not support them blocks installation.
It is hard to shake off the suspicion that pressure from OEM partners to encourage a hardware refresh was a factor in the reasoning, despite some merit in the arguments about security and performance
In an interview with CRN, Weston said that "if you make things optional, people don't turn them on … what we put into 11 is [that] we are going to secure you by default."
Another element in the system requirements, Weston explained, is that hardware features like mode-based execution control (MBEC), which improves the performance of HVCI, are specified to prevent performance issues – though users remain puzzled about the exclusion of Intel's 7th generation processors which do support MBEC.
Microsoft is also talking up Pluton, a security processor introduced in Xbox One in 2013. Is Pluton required by Windows 11? No, but Weston said vaguely that "this next level of hardware security is compatible with upcoming Pluton-equipped systems."
Windows security company Malwarebytes said that "Microsoft is making an aggressive attempt to raise the security floor of the PC platform, and that's a good thing for everyone's security," but added that the compatibility restrictions with have "a chilling effect on organizations' willingness to migrate away from Windows 10" and that "threat actors will adapt, as they have done before."
The company undermined its stated rationale for excluding the majority of existing PCs when it relaxed the requirements slightly to include Surface Studio 2, which runs a 7th generation Intel processor.
It is hard to shake off the suspicion that pressure from OEM partners to encourage a hardware refresh was a factor in the reasoning, despite some merit in the arguments about security and performance.
The Windows 11 user interface
Microsoft's overall design story in recent years is called Fluent Design System and this document informs us that: "Windows 11 marks a visual evolution of the operating system.
"We have evolved our design language alongside with Fluent to create a design which is human, universal and truly feels like Windows."
Features of the design are intended to include intuitive operation, calm and lack of clutter, personalisation, and familiarity. The company further explains that "every glyph in our system icon font has been redesigned to embrace a softer geometry and more modern metaphors."
Alongside this thoughtful design effort there is a long-standing process of modernising the Windows user interface. Compatibility issues and the difficulty of updating everything at once means that Windows still has competing interfaces with similar but slightly different functionality, like the Programs and Features in Control Panel (still the same in Windows 11) and Apps & features in Settings (the new style).
Windows 11 brings more into the modern UI but it remains a hybrid.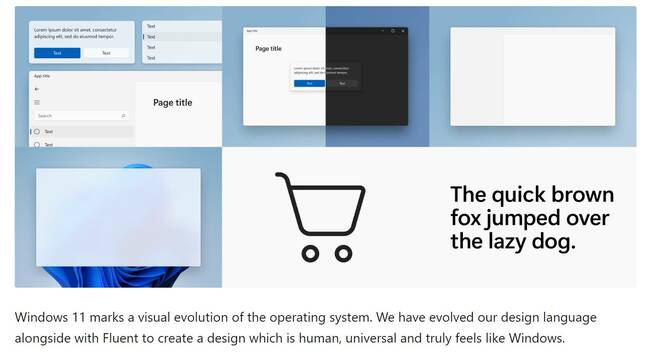 Design principles in Windows 11
Windows 11 (for all its plenteous shortcomings) does look more consistent than Windows 10, and better – presuming the fluent design is to the user's taste. That said, the detail of what has been done to core applications (including the Start menu, Taskbar and File Explorer) is problematic, especially for more advanced users.
It is easy to recognise Windows 11, at least in the default install. The taskbar buttons are centred, and clicking the Start button brings up something more like a search dialog than a Start menu, though an "All apps" button reveals a scrolling list of applications, and clicking a letter enables jumping to all the apps in the group. Do anything else though and it is a search: apps, documents, web, email, music.
Those who disliked the munging of application launch and search in Windows 10 will hate it all the more in Windows 11. What is the rationale? It is easier to see potential commercial benefit for Microsoft, since search always uses Bing, than usability advantage.
There are elements of advertising in the Windows 11 Start menu. The Pinned tab on our cleanish install included Spotify, Netflix, Instagram and Photoshop Express, which were neither consciously chosen nor even installed. A recommended section occupies about half the initial Start window and cannot be removed.
Another issue is that Microsoft has not revamped the Windows 10 Start menu and Taskbar. Rather, the company has replaced them; the result being that some features in the old versions are missing, and the new variants are not mature. There is a familiarity problem, not as extreme as when Windows 8 appeared, but still annoying. Right-click the taskbar to run Task Manager? Not there; try right-clicking the Start button and there it is. Shift-click an icon on the taskbar to get a second instance? Does not work, try middle click and there it is.
What new features in the Start menu will benefit users?
They are hard to find from a technical perspective. The main clue about Microsoft's intentions is here where designers explain that "Research showed people wanted a cleaner and simpler Start, and that since so many people have smartphones, design paradigms from those devices could successfully carry over into a new Start – being able to pan different pages with touch, for instance."
Therefore, there is an argument that the removal of features such as Live Tiles and the ability to create groups of pinned tiles is (by some twisted logic) a benefit. We took a closer look at some of the details here.
The Window 10 Tablet mode, itself a pale shadow of Windows 8's table optimization, is removed completely in Windows 11.
Snap Assist is a new feature which lets users form custom layouts, meaning an arrangement of windows snapped to edges or corners of the screen. These arrangements form snap groups, and a group can be recovered by hovering over one the apps in that group on the taskbar, and selecting the group. The apps will open in the same layout. Snap windows can be disabled in settings if found annoying.
Windows 11 also features a Widgets board, accessed from the taskbar. Widgets are dynamic applications which show information such as weather, financial information or sports results.
Built in applications
Windows 11 includes refreshed applications, including some that are in constant use by many users, such as File Explorer. Once again, these changes may not be to everyone's liking.
In File Explorer, the fat ribbon menu has gone, replaced by a simplified icon bar.
How do you copy a file? There are many ways of course, but one way is to right-click a file and choose Copy – or would be, but the Copy option has disappeared, though users can puzzle over "Copy as path."
In Windows 11, users are intended to click the copy icon in the top row, presumably to avoid repetition. There is also "Show more options" which brings up the old-style complete list, including things like version history. Some features are now well hidden.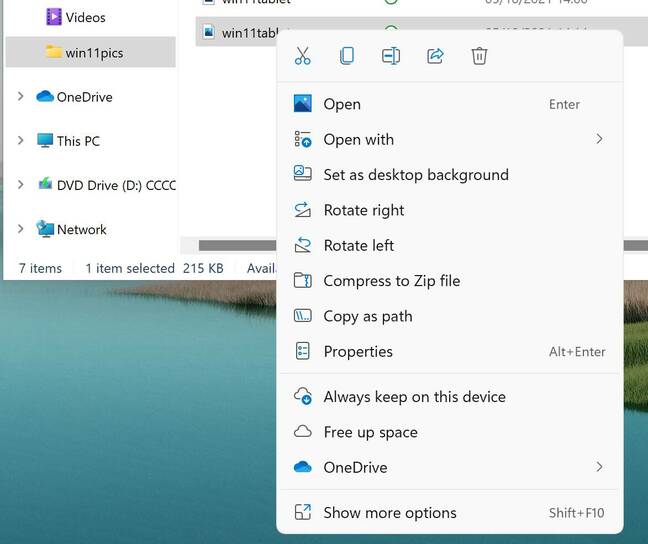 Mixing text and icon options makes this right-click menu confusing
What about Libraries, a handy way to merge several folders as if they were one? Not there under View, not under Show more options in the Navigation Pane. There is a way though: three-dot menu, Options, View reveals Advanced Settings including Show Libraries under Navigation Pane. Then, right-click Libraries in the Navigation Pane, choose Show more options, and it is possible to create a new library – with the sense that Microsoft did not intend you to find this. We mention this to illustrate how simplifying the user interface may also complicate it, for those who want to go beyond what is obvious.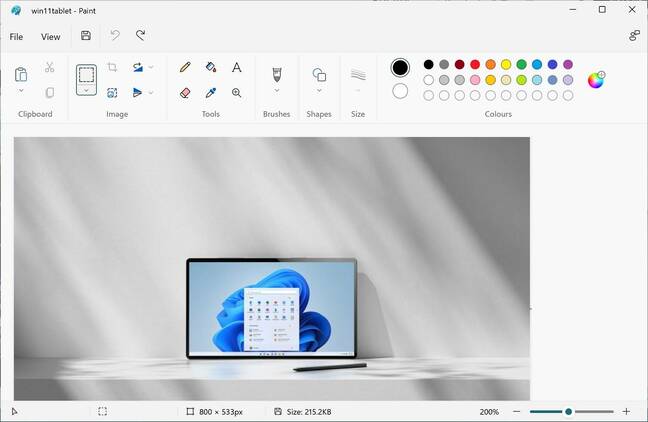 Windows 11 Paint, with rounded icons and less text than before
Paint, an application which like Notepad is highly valued for its small size and high ease of use, has also been revamped, with rounded icons and the disappearance of text labels such as "Paste", "Select" and "Resize", in favour of icons only. Functionally it seems almost the same as before. Calculator has slightly rounded buttons.
The Alarms and Clock application has sprouted Focus Sessions, this being one suspects being a well-intentioned but misconceived effort to improve life for users, who would likely be happy with a simple and easy to use reminder system.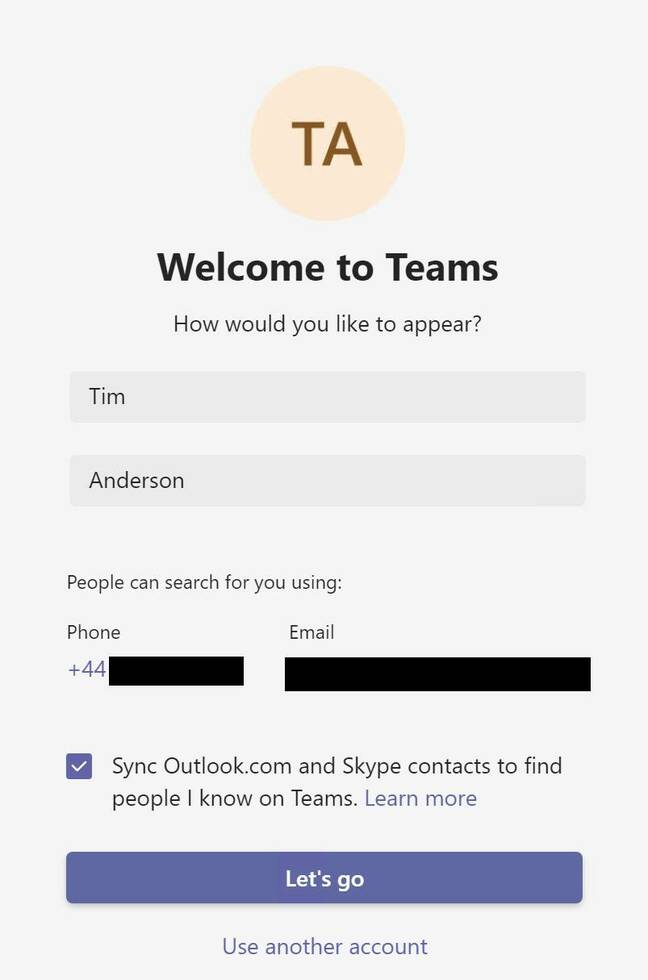 OK to have your email and phone number searchable by the world?
Teams is now included as standard, in the form of Teams Chat, though users may be put off by the insistence that "people can search for you" using their email address and phone number.
Presuming agreement, this feature enables call and chat and video meet via a Microsoft account login. The bundled version of Teams is different from the full version as explained here, and organizations using Teams may want to disable the "personal account" version as it causes confusion.
The Terminal app, a replacement for the command prompt with richer features, is now installed by default. It is a useful application, so Microsoft is right to include it. The Terminal offers tabbed windows and a drop-down option for PowerShell as well as other command-line interfaces including Linux distributions if installed.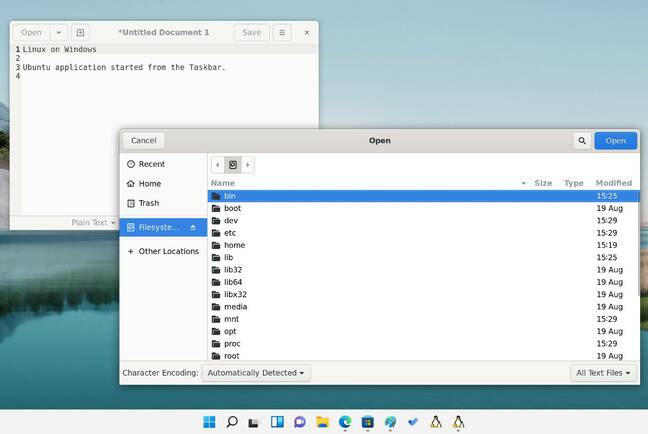 Windows Subsystem for Linux is better than ever, even for GUI applications
Linux is worth mentioning as the Windows Subsystem for Linux 2 works better than ever in Windows 11, though it is not easily discoverable which suggests that Microsoft still intends it mainly for developers and power users. GUI Linux applications can be pinned to the taskbar and launched as if they were native Windows applications. Open a file, and the Linux side is displayed, but with Windows files available under //mnt/c. How useful GUI applications are is open to debate, with the main use of WSL being for things like developing web applications, but it does work well, though we did have a little updating to do after initial install to get it working.
Power Automate for Desktop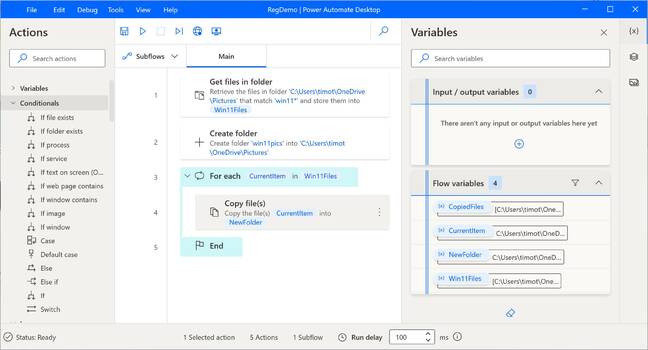 Power Automate Desktop comes bundled
Windows 11 includes Power Automate for Desktop – though note this is also available for Windows 10, and has been for a year. It is based on the cloud-based Power Automate, formerly called Microsoft Flow.
We suspect it will still be new to many Windows 11 users, and having it pre-installed means more will take a look. Microsoft promises that "you can automate virtually any Microsoft and third-party application on Windows and exchange data between different applications and web pages," features of substantial value.
Enabling Power Automate activates an extension for Edge (or Chrome) that can "read and change all your data on all websites." Firefox is not supported. A Power Automate script is called a Flow, and Power Automate Desktop is an application for authoring and running Flows.
The Flow Designer lets users add actions, record steps, use variables, and interact with user interface elements. After a few clicks, we created a script that copies all images matching a pattern into a new folder. Available actions include extracting text from images, encryption and decryption, starting and stopping Windows services, parsing XML, and even admin tasks like starting or stopping EC2 (Elastic Compute Cloud) instances on AWS.
Microsoft no doubt hopes that Power Automate for Desktop will be a gateway to more advanced business workflow projects, as well as being useful to Windows users. It is capable, but also feels over-engineered for simple tasks where a batch file or PowerShell script will be quicker and easier.
The business perspective
Fluent design and bundled applications aside, Windows 11 is not yet much different from Windows 10 from a business perspective. The official What's New list is surprisingly short. Small businesses, who are more likely to roll out Windows in a default configuration, will get a higher level of security. Microsoft has tools for administrators [] to assess readiness, with many organisations likely finding large numbers of PCs not yet capable of running it in a supported manner.
Microsoft said yesterday that application compatibility between Windows 10 and 11 should be good, and it is extending its App Assure program, for fixing compatibility issues, to Windows 11. "Our goal is to ensure that critical apps and devices will simply work during upgrade to Windows 11, with no changes required," the company said.
So. Is it worth the upgrade?
Windows 11 looks better than Windows 10 and is an incremental update which in the normal course of events users would welcome. The launch though is spoiled by system requirements which seem tone-deaf to today's component shortages and ecological challenges, and by changes to the core applications which have sufficient annoyances that some users will prefer to stick with Windows 10 for a while; it is supported until October 2025. Windows 11 will no doubt get better in most respects, though Microsoft's insistence on using its operating system as a vehicle for promoting its search and cloud services, where it gets in the way of usability, may be a persistent concern. ®