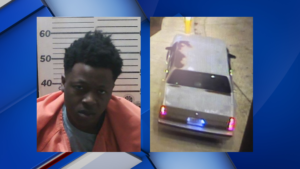 STARKVILLE, Miss. (WCBI) – An armed robbery, turned shooting near the Mississippi State campus lands one man in jail.
Now, law enforcement is searching for two teens.
Oktibbeha County deputies are charging 20-year-old Samual Lee Kirkland of Lexington, Mississippi with one count of armed robbery, aggravated assault, and possession of a controlled substance.
Kirkland remains in the Oktibbeha County jail.
The gunfire started about 7 PM on Thursday night, near Chadwick Apartments.
Investigators tell WCBI that Kirkland was shot and driven to the hospital.
The victim in this ordeal was also driven to the hospital before the soldiers arrived at the complex.
Kirkland and the victim were later released.
That's when the Holmes County man was arrested.
Today, investigators continue to search for two juveniles who they believe also played a role in the shooting.
Deputies hope someone will help them find this 1990 Oldsmobile 98.
The license plate number is HLB 7-3-5-9.
The juveniles could be driving this vehicle.
If you see the car, you're asked to call 911.