Violence and looting has raged in South Africa for the sixth day running, stoking fears of food and fuel shortages as disruption to farming, manufacturing and oil refining began to bite amid the country's worst unrest in decades.
More than 70 people have died as grievances over the jailing of former President Jacob Zuma have widened into an outpouring of anger over the inequality that remains 27 years after the end of apartheid.
Poverty has been exacerbated by severe social and economic restrictions aimed at curbing the spread of COVID-19.
More than 1,200 people have been arrested in the lawlessness that has raged in poor areas of two provinces, where a community radio station was ransacked and forced off the air on Tuesday and some COVID-19 vaccination centres were closed, disrupting urgently needed inoculations.
Many of the deaths in Gauteng and KwaZulu-Natal provinces occurred in chaotic stampedes as thousands of people stole food, electric appliances, liquor and clothing from stores, police said.
The deployment of 2,500 soldiers to support the overwhelmed South African police has so far failed to stop the rampant looting.
Here are the latest updates:
---
Family mourns teenager killed in violence
Relatives on Wednesday mourned the death of a 14-year-old boy killed in the violence that has left South Africa on edge, as the government urged communities to "work with law enforcement agencies to stop the looting and violence".
At the Chris Hani Mall in Vosloorus, far east of Johannesburg, Vusi Dlamini was one of the latest casualties to the chaos that has seen running battles between the police and rioters.
Residents and eyewitnesses claimed that Dlamini was shot by members of the minibus taxi associations that were guarding the Chris Hani Mall.
Taxi associations are notoriously violent in South Africa, where they oversee an informal public transport network served by trademark white minibuses.
Their involvement has raised concern within the government, which has warned against mob justice.
---
'Little to lose': Poverty and despair fuel South Africa's unrest
South Africa is facing its worst unrest in decades as protests over the jailing of former President Jacob Zuma have led to spiralling violence and looting.
At least 72 people have died in six consecutive days of violent clashes between police and protesters, and in stampedes by looting mobs. More than 1,200 people have been arrested so far.
Read more here.
---
Crisis will come back to 'bite' politicians in future – economist
The current unrest in South Africa will "come back to bite" politicians in the next elections, South African economist Xhanti Payi told Al Jazeera.
"The President [Ramaphosa] was talking about reconstruction of the economy and that's an important thing … but it's very much a long-term discussion," he said from Cape Town.
"Then there are very immediate goals and these are the ones that people are reacting to at the moment in which people are saying, 'Look we are struggling, we are under lockdown.'"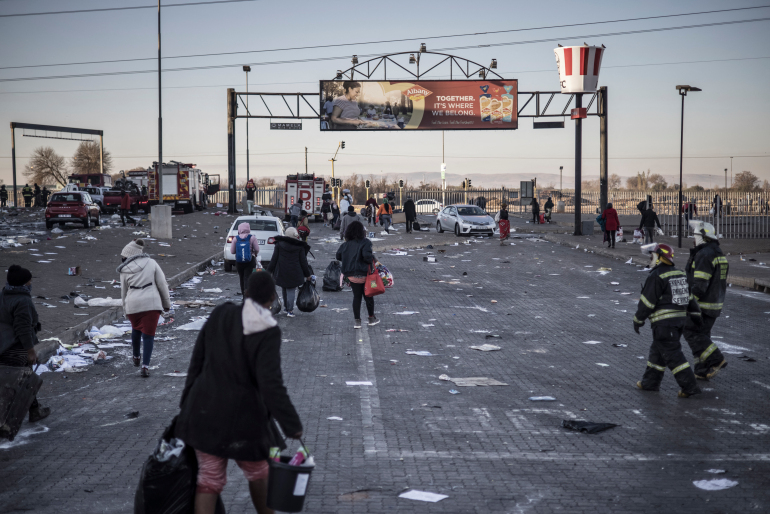 ---
South Africa's Zulu king says violence brings 'great shame'
The king of South Africa's Zulu community, the country's largest ethnic group, on Wednesday appealed for an end to unrest after six days of looting left scores of people dead and battered the economy.
"I call for peace," Misuzulu Zulu said in a maiden speech on state television.
The violence "has brought great shame" on the Zulu people, he said.
"This chaos is destroying the economy, and it is the poor who will suffer the most," he warned.
---
More than 1,750 people arrested over unrest – minister
South African security forces have arrested 1,754 people in connection with days of looting, arson and violence, a senior minister in the presidency's office said.
The government was engaging with the consumer council to ensure there are no food shortages arising from rampant pillaging of shopping centres, malls and warehouses, cabinet minister Khumbudzo Ntshavheni said.
---
Insurance claims from unrest seen at up to $680m – govt insurer
Claims for damage and theft from businesses affected by civil unrest in South Africa are likely to be between seven billion rand and 10 billion rand ($481m to $683m), the head of the only insurer covering political violence in the country told Reuters news agency.
Sasria, a state-owned insurer set up after private firms stopped underwriting risks relating to political violence due to unrest during apartheid, has received around 100 million rand in claims so far, its managing director Cedric Masondo told Reuters, adding this was expected to rise significantly.
The company, the only insurer to offer cover for such risks, expects total claims of up to 10 billion rand, or 12 billion rand in a worst-case scenario – making the unrest likely the most significant event in terms of the value of claims since Sasria was set up in 1974, Masondo continued.
"This is the worst in terms of financial magnitude," he said.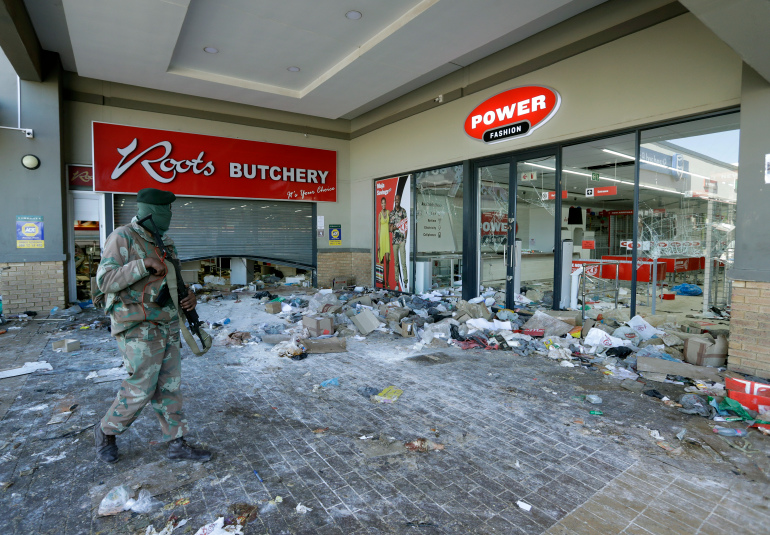 ---
Unrest not only political, also 'economy problem': Analyst
South African political analyst and author Ralph Mathekga said the current unrest in the country following the jailing of former President Zuma was an "economy problem" and not just a political issue.
"It is an economy problem that also talks to poorly aligned politics. The politics that it's no longer being able to respond to the needs of the people," he told Al Jazeera from Johannesburg.
"Of course there's always going to be the element of criminality, but the essence of it is also the dehumanising effect of poverty."
Mathekga said it was something people refused to acknowledge because it was "more dignified to deal with this thing as a security issue".
"You just label people criminals and you are done with it. That's not the way to go when dealing with this," he added.
---
Community members help to stop looting, protect businesses – AJ correspondent
In Soweto outside one of the largest mall community members are stationing themselves outside to protect it, Al Jazeera's Fahmida Miller reported.
"They say they were not part of the looting and they would not let that happen … a small group of demonstrators community members, small business owners, coming out to say we refuse to join the looting and saying that they're here to protect what's left," Miller said.
"I think what is interesting is how community members have come out themselves to protect a mall like this where others have experienced significant looting also because they've lost faith in the police. There's been a lot of criticism around police and the government in that they've acted too slowly."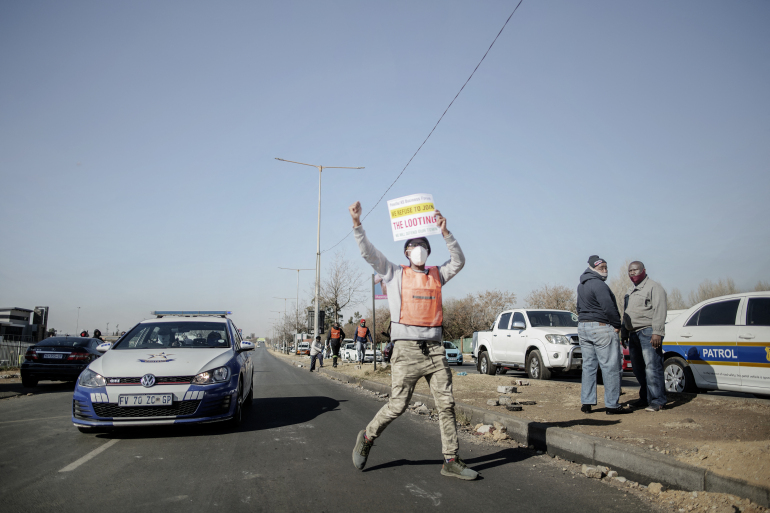 ---
South Africa looking into deploying more military to quell unrest, president says
The South African government is looking into expanding the deployment of the military after days of looting and violence, President Cyril Ramaphosa said, according to a statement from his office.
Ramaphosa made the comments during consultations with the leaders of political parties on ways to address the continuing unrest. The leaders urged him to put more troops on the streets.
"President Ramaphosa welcomed proposals made by political leaders and said expanded deployment of the South African National Defence Force was being addressed," the statement said.
---
Residents defend shopping mall from looters
Residents of Pimville town, in the Soweto district, have gathered to prevent Maponya Mall to be looted, according to local media.
The structure is the only mall in the area that has not been pillaged so far.
Deputy Minister of State Security Zizi Kodwa thanked the community for defending the mall.
Pimville residents have joined forces to protect Maponya Mall in Soweto. Maponya is the only mall in Soweto that hasn't been looted.
🎥: Nokuthula Mbatha/ African News Agency
Read more here: https://t.co/fgbExyBgWO#SouthAfricaIsBurning #looting #unrestsa pic.twitter.com/2LZnSGHkSl

— IOL News (@IOL) July 14, 2021
---
Mapping arrests and deaths in South Africa's unrest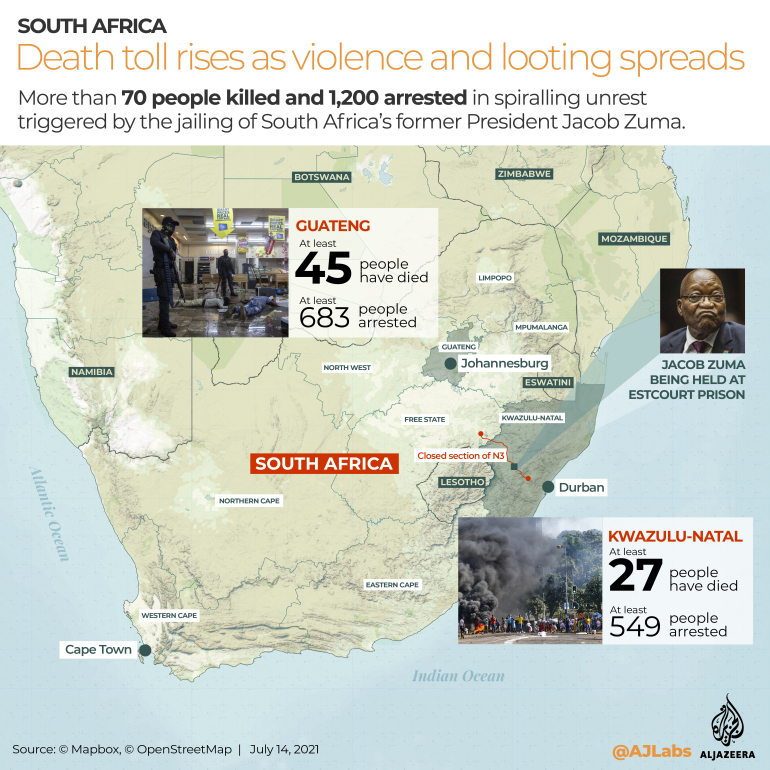 ---
South African ports, key rail line disrupted
Major South African ports Durban and Richards Bay and a rail line connecting Durban with the Gauteng province where Johannesburg is located have been disrupted, according to state logistics group Transnet.
Transnet said in a statement that force majeure had been declared on the NATCOR rail line. It added that it was deploying all available resources to avert commercial fuel operations being affected, after being served with a force majeure notice by the SAPREF refinery.
---
Fears grow over food shortages
As violence continues, looting has hit supply chains and transport links in the Johannesburg region and the southeastern province of KwaZulu-Natal, sending a shockwave to the delivery of goods and services around the country.
Outside a branch of a popular supermarket in northern Durban's Eastman region, around 400 people started lining up to buy food, hours before the shop was due to open.
"With [this looting], it's an inflection point … this has now seriously compromised our energy security and food security," Bonang Mohale, chancellor of the University of the Free State and a professor of business and economics studies, told AFP news agency.
Christo van der Rheede, executive director of the largest farmers' organisation, Agri SA, said producers were struggling to get their crops to market because the logistical network was in a "shambles".
"We need the restoration of law and order as soon as possible, because we are going to have a massive humanitarian crisis," van der Rheede told AFP.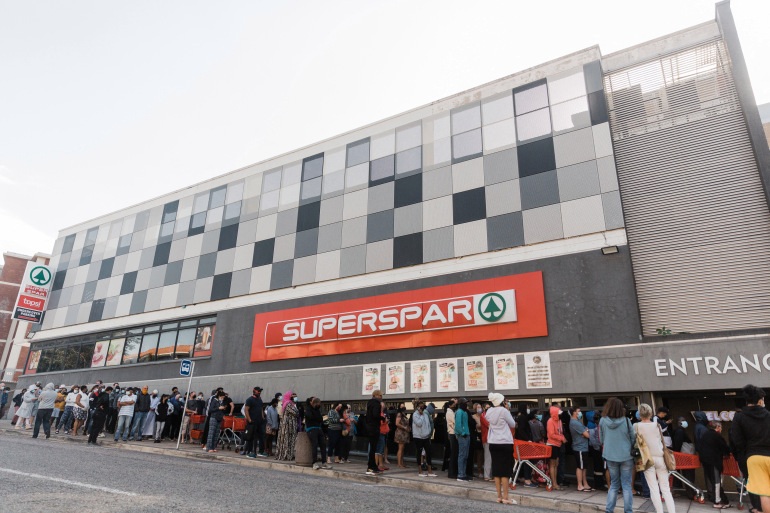 ---
British and Irish Lions reassured on safety
The British and Irish Lions rugby team's players have been reassured of their safety during their South African tour, a security official with the tourists told AFP news agency.
"There have been discussions with the Lions and security has increased," said the security official, who spoke on condition of anonymity as he is not an authorised spokesman.
"South Africa is a vast country size-wise and the Western Cape is far from the worst hit areas. I would say it is the safest part of the country currently."
The Lions arrived in South Africa on June 28 for an eight-match tour and played three times in Gauteng before flying to Cape Town last weekend.
---
'Collateral damage is simply unimaginable': NHN
The National Hospital Network (NHN), which represents 241 hospitals, has warned of the continuing violence's effect on the country's healthcare services, according to local media IOL.
Due to the unrest, healthcare workers cannot leave their houses, causing dire staff shortages, while food supplies are running out at some hospitals, according to a NHN statement reported by IOL.
The network is calling on the government to provide on-site security to hospitals and police escorts for the transport of oxygen and other medical supplies.
The NHN is deeply concerned at the slow pace in getting the situation under control, reportedly saying that the "collateral damage is simply unimaginable".
---
More riots expected: AJ correspondent
Reporting from Johannesburg, Al Jazeera's Fahmida Miller said while the situation appeared more stable there, there were still incidents of looting in parts of KwaZulu-Natal province, with a number of buildings, including warehouses, being set on fire.
Questions are also being raised over the police's response to the continuing violence, Miller said.
"What we are increasingly hearing from people is the lack of response from police that seems reactionary rather than preventative," she said, adding that many believe security forces have not been deployed in sufficient numbers to quell the unrest.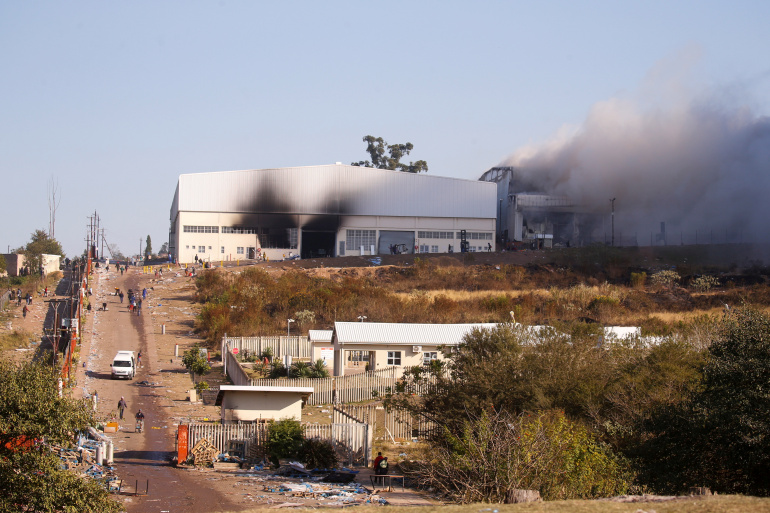 According to Miller, the police said it has engaged with local communities to try to prevent the destruction and looting, while it has also started to recall officers on leave.
"This really indicated how desperate they are becoming," she said, adding that more riots are expected in the coming days.
---
African Union chairman condemns surge of violence
The African Union Commission's Chairperson Moussa Faki Mahamat has condemned "in the strongest terms" the widespread violence unfolding in South Africa, while extending his condolences to the families of those who were killed.
Mahamat also called for "an urgent restoration of order, peace and stability in the country in full respect to the rule of law," read a statement published on Tuesday night.
The failure to do so, "can have grave impacts not only in the country but the region as a whole," it added.
[Read] Statement of the Chairperson of the @_AfricanUnion Commission @AUC_MoussaFaki on the situation in #SouthAfrica @ https://t.co/JMwK4Tf65l pic.twitter.com/sGUro6hG4l

— African Union (@_AfricanUnion) July 13, 2021
---
Overnight violence spreads to two provinces
Overnight violence spread to two provinces, Mpumalanga, just east of Gauteng, and Northern Cape, police said in a statement.
A Reuters news agency photographer saw several shops being looted in Mpumalanga town, also known as Hammarsdale, KwaZulu-Natal. Local TV stations meanwhile showed more looting of shops in South Africa's largest township Soweto, and in the port city of Durban.
The national prosecuting authority has said it will punish those caught looting or destroying property, a threat that so far has done little to deter them.
---
South Africa's largest refinery temporarily shut down
South Africa's largest refinery SAPREF in the eastern port city of Durban has been temporarily shut down as the country struggles with mass looting and the worst violence in years, according to an industry official.
SAPREF has a nameplate capacity of 180,000 barrels per day and accounts for about 35 percent of the refining capacity in Africa's most industrialised economy, a net importer of petroleum products.
---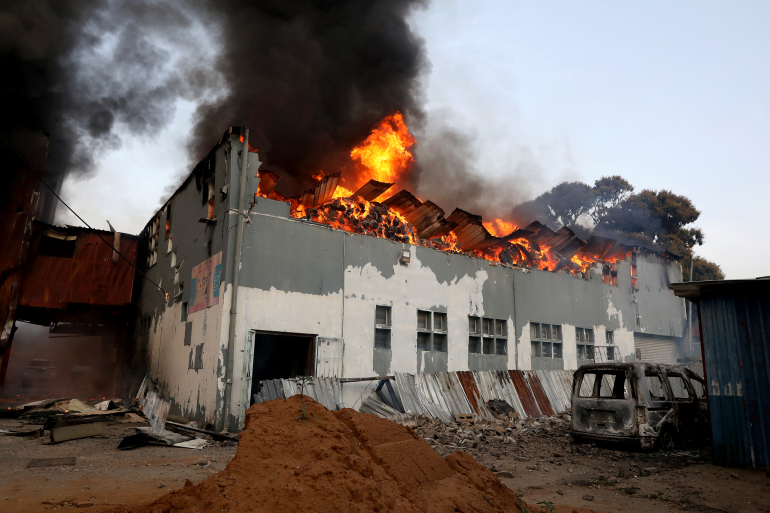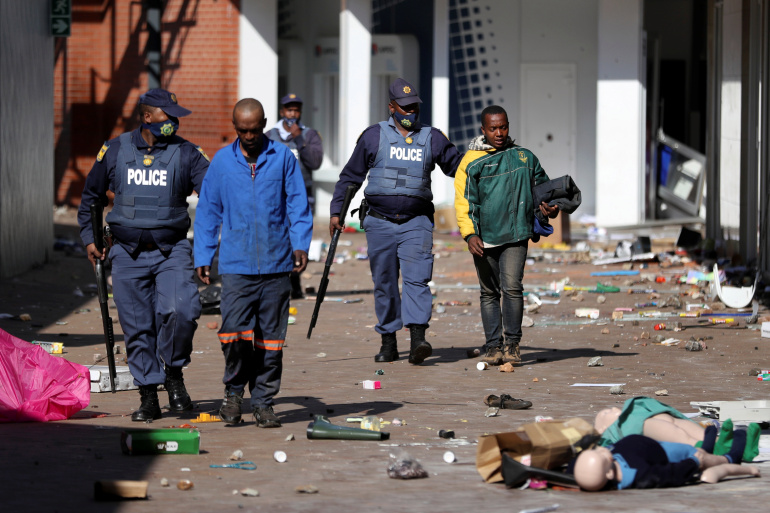 ---
Violence will 'exacerbate' situation further: Entrepreneur
Tumelo Mosethli, a South African entrepreneur based in Johannesburg, said jobs being lost as a result of the unrest will "exacerbate" the current dire economic situation.
"We don't need this – to see people's shops and businesses being gutted," he told Al Jazeera.
"Yes, people are hungry today, but tomorrow there'll be more unemployment, more pain, more suffering in a nation that is trying to recover and rebuild itself."
---
Al Jazeera's live blog on the violence and unrest in South Africa on Tuesday can be found here.