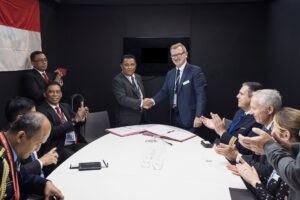 Arquus and PT Pindad sign MOU on future programs for Indonesia: Arquus and PT Pindad signed a Memorandum of Understanding (MOU) to establish future collaboration in land systems platform for Indonesia. This MOU covers the development and production of new armored vehicles, as well as corresponding systems and services. With this agreement, both companies agree to turn an exemplary relationship into an official, and larger scale partnership. Arquus and PT Pindad have been running a long-term and successful relationship over the past 15 years. Throughout these years, Arquus has been supplying PT Pindad with major components and parts which have been integrated in Indonesian-made armoured vehicles. Arquus has notably supplied powerpacks for ANOA 6×6 APC vehicles and BADAK 6×6 IFV, currently serving in the Indonesian Army. Arquus has also supplied rolling chassis for the KOMODO 4×4 multipurpose vehicle. The aim of the MOU is to cooperate in the field of military vehicles and systems to address the current needs of the Indonesian Armed Forces. Such cooperation will cover multi-purpose armoured vehicles, reconnaissance vehicles, APC and IFV, as well as remote-controlled weapon stations. It could also include development, product qualification, production and assembly, plus after-sales services. On top of its long-running relationship with PT Pindad, and the hundreds of ANOA, BADAK and KOMODO armoured vehicles proudly serving daily, Arquus is a major supplier for the Indonesian Army. Arquus has indeed produced and delivered a total of 80 vehicles directly to the Ministry of Defense, including VAB, VBL and Sherpa Light vehicles in various configurations. 
XTEK and Milrem Robotics showcase UGV ballistic protection: XTEK Limited and Europe's leading robotics and autonomous systems developer Milrem Robotics showcased ballistic protection for unmanned ground vehicles at Eurosatory 2022. A key threat in field operations of UGV's is that of critical ballistic strikes, resulting in a disabled asset. Utilising our expert knowledge in the field of ballistic protection, XTEK has developed a fully composite fender, with in-built ballistic protection provided to the THeMIS' critical communications and control systems, greatly reducing the potential of a critical strike/penetration by projectiles. The specially designed fender provides the lightest protection to NIJ Standard 0108.01 Level III, covering small arms and most common rifle threats. Utilising XTEK's XTclave patented consolidation technology, the fully composite construction keeps weight to a minimum, reducing the impact on operational loadout for the UGV. Future development work is focused on providing increased levels of protection, specifically against AP and sniper ammunition, whilst maintaining minimal weight increase to the vehicle. Milrem Robotics and XTEK have been collaborating since 2021. During this time, the European based robotics and autonomous systems developer Milrem Robotics signed a distribution and maintenance agreement with XTEK and delivered the first THeMIS Unmanned Ground Vehicle (UGV) to the Australian homeland security specialist. The first THeMIS has been used by XTEK, for trial, evaluation, and demonstration purposes. Since the signing of an MoU, the two companies have also signed an agreement making XTEK the exclusive distributor of the THeMIS UGV, the Type-X Robotic Combat Vehicle, and Milrem's Intelligent Functions Integration Kit in Australia and New Zealand.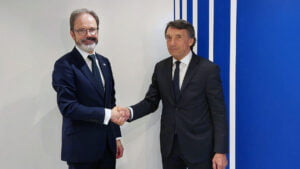 FN Herstal and Fiocchi enter into a new agreement: FN Herstal along with its US subsidiary, FN America, announced that a partnership has been concluded with Fiocchi Munizioni. The partnership includes a licensing agreement that specifically covers the manufacture and supply of 5.7x28mm ammunition to the US commercial market, based on FN Herstal's original design and technology, further reinforcing the long-term cooperation between the two global players. The 5.7x28mm calibre was originally designed and developed by FN Herstal for use in the FN® 5.7 weapon system dedicated to armed forces, law enforcement and special units. On the US commercial market, the FN® 5.7 system consists of two types of weapons: the FN® PS90 carbine and the FN Five-seveN® pistol, which has recently been redesigned under the Mk3 MRD designation to provide enhanced ergonomics and possible integration of a mini red dot sight.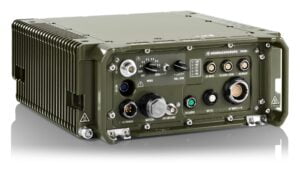 Rohde & Schwarz wins secure coms contract for Asian army: Rohde & Schwarz has been awarded a contract to supply an Asian army with a significant number of SOVERON tactical vehicular communications systems. Under this extension contract, the company will deliver SOVERON VR, which is optimised for use in vehicular applications and meets stringent requirements for vibration and size, weight and power consumption (SWaP). The vehicular software defined radios are fully interoperable with existing tactical communications systems and will enter service after being installed in vehicles by local industry. SOVERON VR is an operationally proven and successful communications solution with multiband capability in the VHF/UHF frequency range from 30 MHz to 512 MHz. The ruggedised hardware meets applicable MIL-STD environmental and EMC requirements, allowing the radio to be used under extreme conditions such as in armoured wheeled vehicles and tracked vehicles. The SOVERON WAVE embedded waveform suite provides increased situational awareness through adaptive high bandwidth IP networking. Mobile ad hoc networking enables continuously stable communications within agile networks.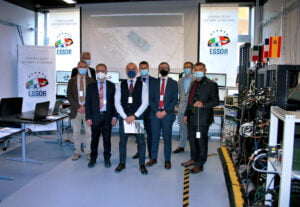 a4ESSOR consortium has successfully performed interoperability tests: The European a4ESSOR consortium has successfully performed interoperability tests using the new ESSOR High Data Rate (ESSOR HDRWF) waveform. These tests are part of the ESSOR (European Secure Software defined Radio) project, launched at the end of 2017 by a4ESSOR and OCCAR (Organization Conjointe de Coopération en matière d'Armement) on behalf of Finland, France, Germany, Italy, Spain and Poland. The milestone has been announced during Eurosatory 2022. The testing took place in Poland, with Software Defined Radios (SDRs) from a4ESSOR's industry partners (Bittium, Indra, Leonardo, Radmor and Thales) equipped with the ESSOR HDRWF, all connected to an automated test environment. This made it possible to verify that the ESSOR HDRWF could handle a number of operational use scenarios, demonstrating full interoperability. The same environment was previously used to conduct testing and preliminary validation activities for participating nations' SDR platforms. The tests demonstrated ESSOR HDRWF's excellent performance, including its networking (MANET – Mobile Adhoc Network), data transmission (IP), security, push-to-talk, radio silence mode and co-habitation (spectrum sharing) features. The ESSOR project's next milestone will be to test the ESSOR HDRWF on a radio from Germany's Rohde & Schwarz. Germany and Rohde & Schwarz joined the programme at the end of 2020.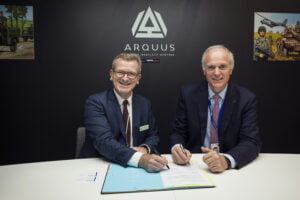 Arquus, Michelin launch R&D partnership: Arquus and Michelin officially signed a partnership to collaborate on research and development matters of common interest for both companies. Among the subjects envisioned, adaptive mobility is a major subject. Michelin has notably developed anti-puncture solutions such as the Tweel airless tyre and remote inflation systems. Originally designed for construction sites or the agricultural sector, these technologies are extremely relevant in the defence sector. Predictive maintenance is also a subject of interest for both teams of Michelin and Arquus, due to the very long life cycle of military vehicles, up to and above forty years in several cases. This topic has also to be studied from an environmental perspective, to reduce the footprint of each vehicle and each tyre as much as possible. Mobility is at the heart of Arquus' priorities, whether for troop transport, reconnaissance, or combat. Vehicle adhesion is of utmost importance, especially on demanding slopes or inclined planes where military vehicles are regularly tested, right down to the tyres which play a major role in vehicle mobility. This new partnership between Arquus and Michelin joins Arquus requests of excellence and French expertise. This partnership is also in line with Arquus' origins, which are partly in the civilian automotive industry. Member of the AB Volvo Group, Arquus already adapts dual components to the demanding needs of the armies.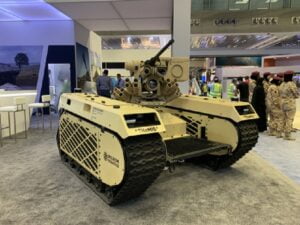 Milrem Robotics, FN Herstal demo intelligent combat UGV: European robotics and autonomous systems developer Milrem Robotics and firearms manufacturer FN Herstal demonstrated the THeMIS Combat unmanned ground vehicle (UGV) equipped with the deFNder Medium Remote Weapon Station (RWS) and intelligent functions at Eurosatory 2022. The THeMIS Combat UGV provides direct fire support for manoeuvre forces and acts as a force multiplier. With the deFNder Medium remote weapon station, it offers high precision over wide areas, day and night and increases stand-off distance, force protection and survivability for dismounted soldiers. The THeMIS UGV is equipped with Milrem's Intelligent Functions Kit (MIFIK) that allows autonomous mobility such as follow me, return home, point-to-point navigation and obstacle detection and avoidance. Autonomous functions are strictly limited to mobility only. The weapon system is controlled only by a human operator. "Being part of many combat UGV assessment programs around the globe we have seen that these systems considerably increase the capability of units, especially small units," said Cpt (res) Jüri Pajuste, Defence Research and Development Director at Milrem Robotics. "Their benefit comes from higher firepower and mobility and most of all through changing tactics. UGV's are not just technology gadgets, but useful tools to win conflicts," Pajuste added. "We are proud to demonstrate the capabilities of our deFNder® Medium on Milrem Robotics' THeMIS this year again", said Igor Klapka, VP Systems for FN Herstal. "The number of applications addressed to with our RWS is growing to successfully include unmanned ground or aerial vehicles, and radio-frequency control, whilst the armament remains operated by the human operator. The deFNder® Medium is a stabilized RWS capable of automatically tracking and classifying potential targets, in particular to overcome the latency constraint of any wireless communication of UGVs."
Arquus, Thales, NTGS debut Sherpa A2M: Arquus, Thales and NTGS have officially presented the new Sherpa A2M (Advanced Mobile Mortar). The Sherpa A2M is an adequate answer to the tactical challenges met and created by artillery in the high-intensity warfare: mobility, protection, close support to the troops on the ground and mobile counter-battery options at the fraction of the price of a Self-Propelled Gun (SPG). The alliance of Arquus, NTGS and Thales allows the application of a truly complete solution delivering a unique indirect fire support solution, suitable for infantry support, collaborative armed forces troops and Special Forces, as well as autonomous artillery units looking for a high level of mobility and protection. The Sherpa A2M combines the excellent mobility of a Sherpa Light, the proven Deployable Mortar System by NTGS and the 120mm rifled mortar barrel by Thales, into one full fully integrated new solution. Thanks to Thales capability, the vehicle embeds 120 mm rifled ammunition and in the future the mortar laser guided ammunition. The rifled mortar barrel is three times more precise than smoothbore mortar. Due to this superior efficiency and accuracy, it can achieve similar operational effects with much less shots; around 4 times less rounds needed than for a smoothbore mortar. NTGS provides its skills in global systems with the fire control system in the back of the vehicle. This system conveys information about targets and points of interest, which represents a significant strategic advantage. Thanks to their expertise, the A2M Sherpa delivers control across all mission operations and is already combat proven. The mortar and tube from NTGS and Thales are qualified both by NATO and by different armies. The Sherpa Light is a multipurpose, 4×4 armoured vehicle, designed by Arquus to provide with a wide array of versions and customisations for all needs and missions, built on a single, proven base for increased commonality and ease of maintenance. It is a modern, mature, new-generation vehicle, which is built on many years of industrial experience, operational deployments on the battlefield and maintenance. It is protected against ballistic and mine as well as improvised explosive device threats with a STANAG 4569-certified protection, which ensures a high level of safety for the crew inside the vehicle during operations 
Rheinmetall presenting KF51 Panther: Rheinmetall is debuting its new KF51 Panther at Eurosatory 2022. The latest member of Rheinmetall's family of tracked vehicles (KF is short for "Kettenfahrzeug", i.e., tracked vehicle), the KF51 Panther is destined to be game changer on the battlefields of the future. The main battle tank concept sets new standards in all areas – lethality, protection, reconnaissance, networking and mobility. All weapon systems are connected to the commander's and gunner's optics and the fire control computer via the fully digitalised NGVA architecture. This enables both a hunter-killer and a killer-killer function and thus instantaneous target engagement – in the future also supported by artificial intelligence (AI). With its main armament, the 130mm Rheinmetall Future Gun System, the KF51 Panther offers superior firepower against all current and foreseeable mechanised targets. In addition, further armament options are available to provide concentrated firepower for long-range strikes and against multiple targets. The Rheinmetall Future Gun System (FGS) consists of a 130 mm smoothbore gun and a fully automatic ammunition handling system. The autoloader holds 20 ready rounds. Compared to current 120 mm systems, the FGS delivers over fifty percent greater effectiveness at significantly longer ranges of engagement. The FGS can fire kinetic energy (KE) rounds as well as programmable airburst ammunition and corresponding practice rounds.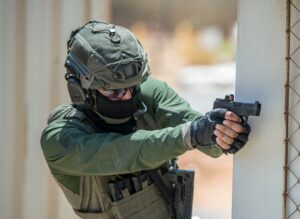 IWI expands range of striker-fired pistol solutions: Israel Weapon Industries has launched the Masada Slim, an operationally proven, high capacity 9 mm compact striker-fired handgun designed to be easily concealed for any covert mission. With a slim line frame, made out of high-strength, impact-resistant fibreglass-reinforced polymers, the Masada slim is designed around a high capacity 13 round magazine and together with an extended base plate it enhances the slim fire power to 17 rounds cartridge that can accommodate 13 bullets, with a cartridge adaptor that can be added to accommodate a total of 17 bullets, giving users additional stopping power. Its enhanced ergonomic design facilitates a natural and instinctive grip angle. Premium high-grade sights are provided as standard out of the box, ensuring enhanced accuracy. Front slide serrations ensure easy and smooth slide manipulations. The Masada slim is optic ready compatible with many after-market sights. Its serialised, high-grade steel firing control mechanism can be easily removed, for easy maintenance and configuration. The Masada slim has A straight trigger, with an average pull of 5.5 to 7 lb. the short clean, crisp break with a positive short reset insurers excellent accuracy. A built-in trigger safety ensures that the handgun will not fire unless the trigger is pressed. A High tang grip design ensures superb recoil control and fast follow up shots on target. For enhanced safety the Masada slim can't be disassembled while the magazine is inserted and there is no need to press the trigger for disassembly.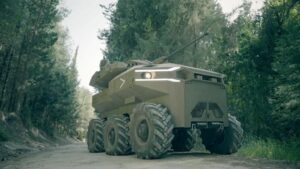 Israel testing robotic unmanned vehicle: The Israel Ministry of Defense will begin testing a robotic unmanned vehicle (M-RCV Medium Robotic Combat Vehicle), developed by the Ministry's Directorate of Defense Research and Development (DDR&D), the Tank and APC Directorate, and Israeli security industries. The robotic combat vehicle includes a new robotic platform type BLR-2 made by BL, a 30 mm autonomous turret developed by the Tank and APC Directorate for the "Eitan" APC, Elbit's "Iron Fist" Active Protection System, fire control and mission management systems, and robotic autonomous kit, in addition to situation awareness systems. The vehicle also features a capsuled drone for forward reconnaissance missions, and a passive sensing kit developed by Elbit Systems and Foresight. The technological demonstrator, led by the Ministry of Defense's DDR&D and the Tank and APC Directorate, integrates a number of cutting-edge technologies including advanced manoeuvring capabilities, the ability to carry heavy and varied mission loads, and a built-in system for transporting and receiving UAVs. The vehicle will also incorporate sights, an IAI missile launcher, and Rafael Advanced Defense Systems' "Spike" missiles. The M-RCV's capabilities include a highly autonomous solution for forward reconnaissance, and controlled lethality in all-terrain conditions. It is operational during the day and night in all-weather scenarios, while emphasising operational effectiveness, simplicity, minimum operator intervention, and integration into heterogeneous unmanned arrays. The system was developed as part of the autonomous battlefield concept led in the DDR&D in collaboration with the Tank and APC Directorate while implementing an open architecture for integrating future capabilities and integrating the robot alongside other tools and capabilities. The system is a joint product of many years of investment by the DDR&D and the Tank and APC Directorate and is expected to start field tests during 2023 in representative scenarios.

---
For Editorial Inquiries Contact:
Editor Kym Bergmann at kym.bergmann@venturamedia.net
For Advertising Inquiries Contact:
Director of Sales Graham Joss at 

graham.joss@venturamedia.net
---