In his address to the nation on India's 76th Independence Day, PM Narendra Modi took great pride in saying, "My friends, today we heard this sound after 75 years of independence for which our ears were yearning to hear. For the first time after 75 years, the Made in India cannon saluted the Tricolor from the Red Fort. Will there be any Indian who will not be inspired by this sound?"
Modi was referring to an India-made howitzer gun, which for the first time ever, delivered the ceremonial 21-gun salute when the national flag was hoisted by him at the iconic Red Fort.
It is a long-standing practice that out of the eight guns that are generally deployed for the occasion, seven fire three rounds each.
This year, the indigenous Advanced Towed Artillery Gun System (ATAGS) prototype was specially customized for the occasion, along with some 25-pounders, or 'Ordnance Quick Fire 25 Pounder', a major British field gun and howitzer.
What the Indian Prime Minister tried to convey in his address was that ATAGS was the manifestation of indigenization or what is called the "Make in India" program that aims at self-reliance in arms and ammunition production.
In fact, his government has already identified areas and types of arms that would be prohibited to import.
Indian ATAGS
The 155 mm ATAGS is the brainchild of India's Defense Research and Development Organization (DRDO) and developed by its Armament Research & Development Establishment (ARDE) and Armament & Combat Engineering Systems (ACE), located in Pune.
Importantly, its production has the involvement of the Indian private sector as well. Bharat Forge Ltd (part of Kalyani Group) and Tata Advanced Systems Ltd have been entrusted with the manufacture of the weapon system.
According to Sangam Sinha, DG (R&M), DRDO, the ATAGS howitzer is a "game changer" as it is the first in the world to have a 45 km range; it is self-propelled and can be towed easily.
In a sense, given the undue delays in the fructification of Indian arms and platforms from the dates of their inception (the stories of the Arjun tank and the Tejas, among others), the saga of ATAG is relatively brief.
Soon after the end of the Kargil victory in 1999, in which artillery in general and the much-cursed Bofors guns (because of the corruption associated with procurement from Sweden) played a spectacular role, the Indian Army released its ambitious Field Artillery Rationalization Plan ( FARP).
For the first time, a home-grown howitzer gun, advanced towed artillery gun system (ATAGS), fire during the ceremonial 21-gun salute at #IndependenceDay2022@AsianetNewsEN @DRDO_India #IndiaAt75 pic.twitter.com/GuhUAArind

— Anish Singh (@anishsingh21) August 15, 2022
This plan talked of the need to "standardize/streamline the procurement/development of approximately 3000 pieces of Artillery, across five categories, including 1580 towed gun systems, 814 mounted gun systems, 180 self-propelled wheeled gun systems, 100 self-propelled tracked gun systems, and 145 ultra-light air-portable howitzers".
The standard caliber for the majority of future Artillery gun procurement would be 155 mm, it was said, in keeping with the Indian Artillery's 'mediumization' plan.
Considering the gravity of the situation of the inability of the country to induct any new artillery gun for over two decades and the global suppliers getting blacklisted one after another, Dr. Vijay Kumar Saraswat, soon after taking over the reins of DRDO chief in 2009, decided to go ahead and develop an advanced next generation gun.
An assessment of futuristic requirements was made based on a lot of brainstorming on possible battlefield scenarios and likely threat perceptions. The DRDO scientists at ARDE were prompt in developing the new technologies needed within a record time leading to the development of ATAGS within four years. The work started in 2013.
Another significant difference was the identification of two leading private sector companies, one from the group of TATAs and the other from the Kalyani group, as partners.
Thus, was born a truly indigenous and next-generation gun called ATAGS, supposed to be the most advanced weapon system in its class. Successful proof-firing of ATAGS was announced by the Government in July 2016.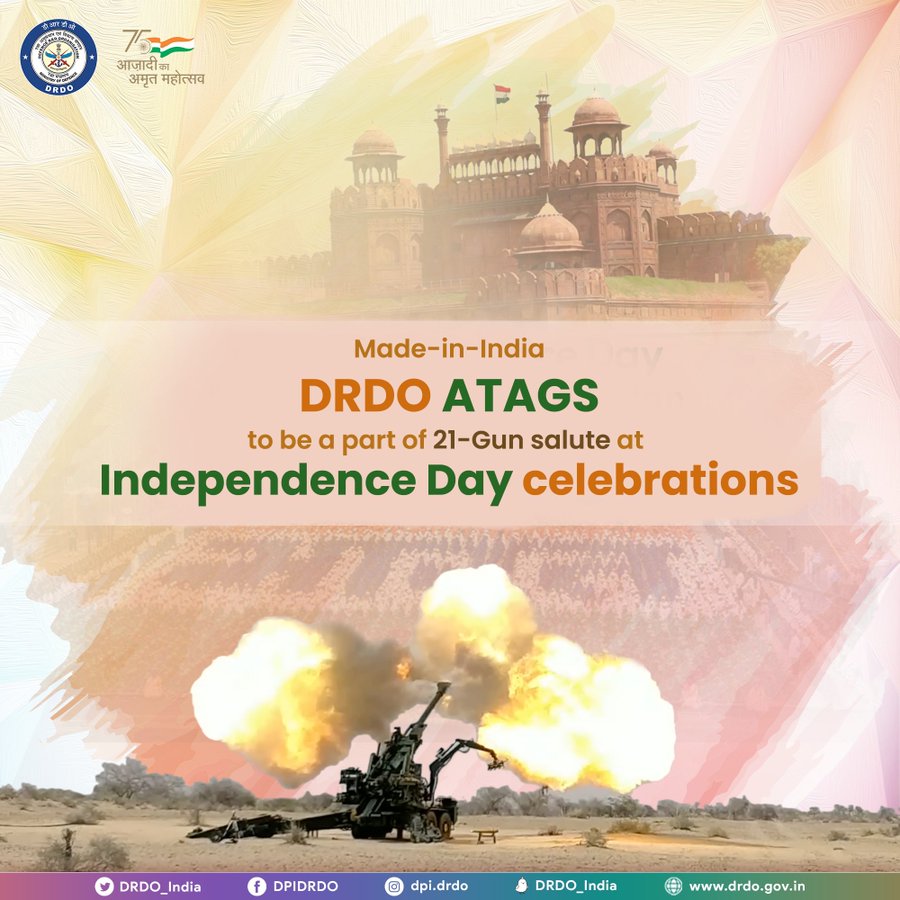 DRDO scientists consider that it was a red-letter day in the history of India's journey of building self-reliance in artillery systems when during trials held in Pokhran in August 2017, the ATAGS achieved a target range of more than 48 km with the existing in -service ammunition, a world record.
Accordingly, in August 2018, the Defense Acquisition Council (DAC) approved the procurement of 150 ATAGS at an estimated cost of Rs. 3365 Crores. A letter of intent for this figure was issued to DRDO, the Development Agency.
However, the procurement process got a jolt when in September 2020, ATAGS, during a trial, suffered a barrel burst due to a bore premature.
It was a case of the shell bursting inside the barrel. It was thought that the program would go back again to the drawing board and that the Israeli Elbit Systems ATHOS 155mm gun would get a re-look for procurement after the proposal was shelved in September 2019 in favor of indigenous gun development.
However, in November 2020, experts found out the problems causing the mishap and rectified them before sending ATAGS for further trials.
In June 2021, ATAGS successfully completed high altitude trials at Sikkim at an altitude of 4600m, which included mobility trials of over 500 Km in mountainous terrain and high altitude firing. And during the trial period from 26 April to 02 May 2022, ATAGS completed desert trials, which included firing trials in various modes and charge zones, thus marking the successful completion of trials to meet the Preliminary Staff Qualitative Requirements (PSQR), a precursor to the formulation of the General Staff Qualitative Requirements (GSQR) by the user.
Further trials of 'non-firing parameters,' including electromagnetic compatibility and Directorate General of Quality Assurance (DGQA) trials, will follow, it is said.
This, in turn, will lead to the issue of a Request for Proposal (RFP) from the Ministry of Defence/Army to Bharat Forge and Tata Advanced Systems for contracts "to deliver the initial order of 150 guns between them."
ATAGS Replacing Russian, Swedish Guns
It is to be noted that as a 155mm/ 52 Caliber Artillery Gun, ATAGS is supposed to gradually replace the vintage 130mm M-46 Russian gun and the 155mm FH77B Swedish Bofors Gun, both of which have been in service with the Indian Artillery for more than 50 years. ATAGS is said to be more lethal than Bofors in every respect.
It is equipped with all electric drives to ensure maintenance-free and reliable field operations even in extreme cold environments, without any apprehensions of hydraulics needed in conventional guns getting frozen or turning too thick.
Built with a very robust yet compact structure, the gun incorporates compact thermal imaging sight and surveillance system, Software Defined Radio (SDR) based advanced communication, high power, compact 'auxiliary power' unit for achieving enhanced cross-country mobility, walking-beam suspension for negotiating difficult terrains, simultaneous voice, and data communication and fire control computer.
ATAGS is equipped with an "Integrated Fire Control system" consisting of an INS-based Automatic Gun Alignment and Positioning System (AGAPS), Muzzle Velocity Radar (MVR), and Ballistic Computer to carry out online computations.
It incorporates features such as five-round Auto Multiple Round Simultaneous Impact (MRSI) – where a five-round burst can be programmed to impact on the same target. The use of automation and modern technology has also resulted in ATAGS being made available with automatic shell and charge loading, ramming with automatic gun deployment. The increased amount of automation will also result in a higher rate of fire.
The ATAGS is also equipped with a Tactical Computer (TC) that commands and controls a battery of guns and allows integration with the Artillery Combat Command and Control System "Shakti," an indigenous fully digitized, integrated, and networked system already deployed. A single Battery Command Post (BCP) can control a battery of six to eight guns.
The importance or effectiveness of artillery in general flows from the dictum that the greater the distance from which one could strike at one's enemy, the brighter the degree of flexibility one could achieve in field maneuvers.
And this flexibility is also determined by mobility. Therefore, 'Shoot and Scoot' is a term that one often hears when describing artillery systems. The ability of an artillery gun and its crew to quickly fire a few rounds and relocate to a new firing position is of utmost importance.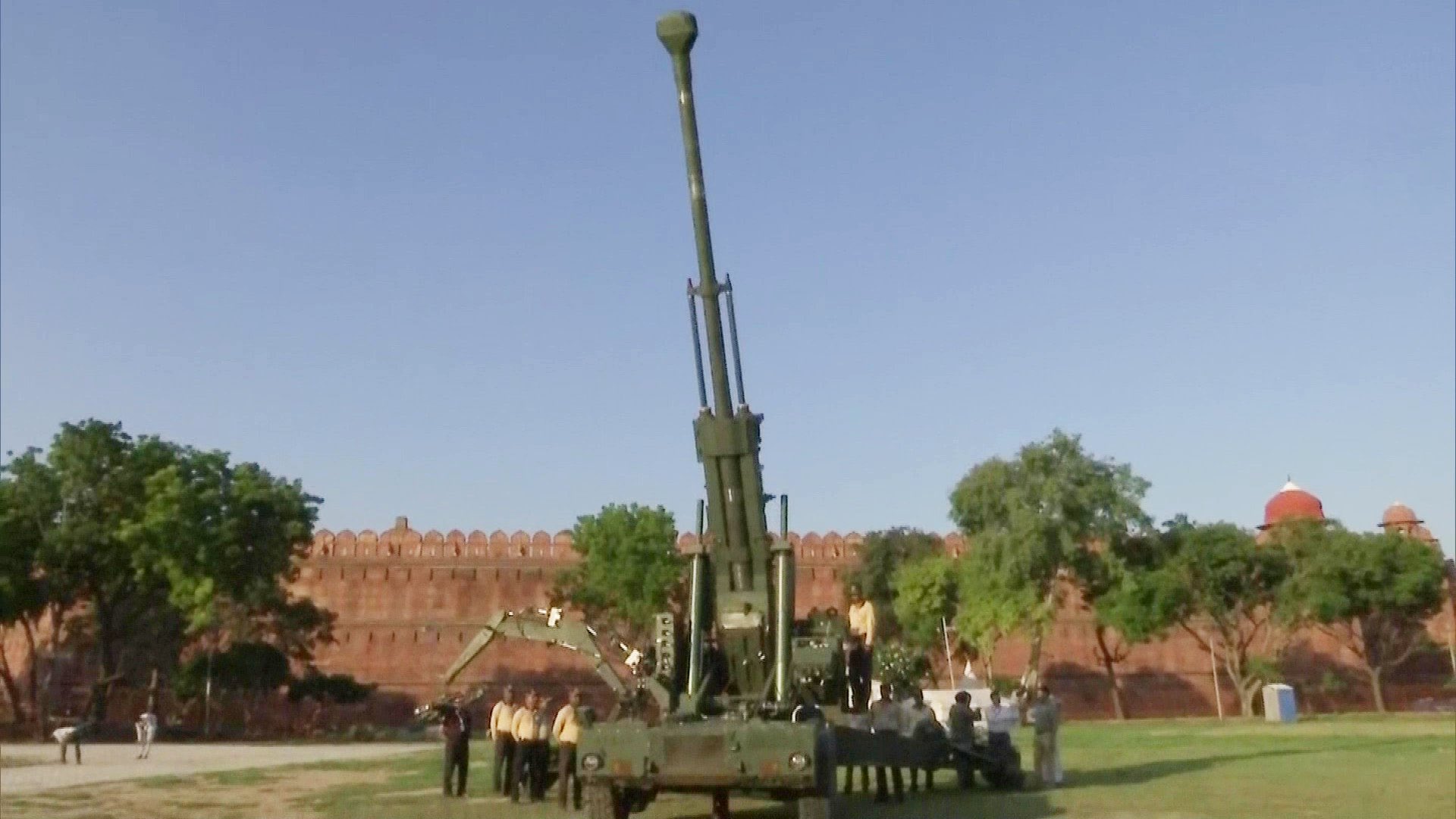 It is said that ATAGS features exceptional mobility for a towed 155 mm/52 Cal artillery gun and can reach a speed of 20 kmph, and perform 360-degree pivotal turning. The artillery gun has a turning radius of less than 25 m and can climb an 18-degree gradient.
All told, however, ATAG is one of the programs in the field of Indian artillery, whose inventory ranges from Ballistic Missile, Multi-Barrel Rocket launchers, High Mobility Guns, Mortars, Precision Guided Munitions for the destruction of enemy targets to Radars, UAVs , and Electro-optic devices for locating and carrying out Post Strike Damage Assessment (PSDA).
Indigenization is on in all these areas, but the success rate varies from program to program. With the Agni series and Brahmos, India has done extremely well in the field of missiles, but the same success rate is lacking in other programs.
Even ATAGS is still a prototype, in the strict sense of the term. India still requires foreign guns, as the manufacturing now of the likes of Dhanush (based on the transfer of technology from Bofors by the Mahindras), K 9 Vajra (a Self-Propelled Gun which is an indigenized version of the South Korean SP Gun, manufactured by Larsen and Toubro Limited under make in India program), is not in great numbers. Even they have to fully satisfy the Army about their quality.
Considering all this, India needs foreign guns for some time more. That explains why the Indian Army is buying the Ultra-Light Howitzer (ULH), manufactured by BAE Systems and is being procured through the Foreign Military Sales (FMS) Government-to-Government route from the United States.
India is also looking for 105mm/37 caliber mounted gun systems for stronger firepower in the mountainous northern borders with China. It issued this April Request for Information (RFI) to procure them.
"The proposed mounted gun system will be employed in mountains and high-altitude areas along the northern borders of the country for the execution of artillery tasks," the RFI mentioned.
In sum, one may say that although India is on the right path of indigenization, there is still a long way to go for the self-reliance of arms, including the artillery.
Author and veteran journalist Prakash Nanda has been commenting on politics, foreign policy on strategic affairs for nearly three decades. A former National Fellow of the Indian Council for Historical Research and recipient of the Seoul Peace Prize Scholarship, he is also a Distinguished Fellow at the Institute of Peace and Conflict Studies. CONTACT:

[email protected]