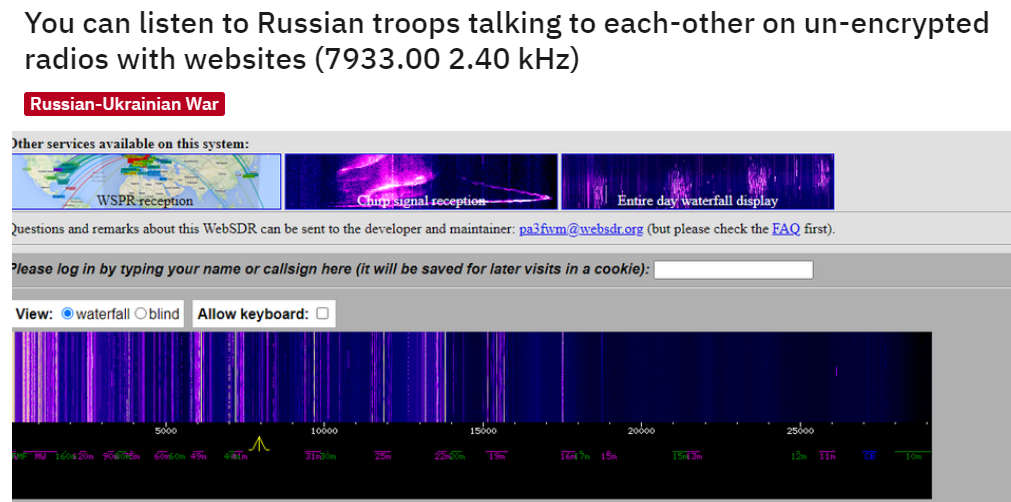 Crowdsourced Tracking will allow thousands to monitor Russian troop movements in Donbass in real time.
Mariupol – April 13, 2022 – The Save Ukraine Network has initiated a program that allows citizens of any country to publicize the movements and strength of Russian military units in Donbass, Ukraine, by collating updated mapping from Google Earth and the Center for Information Resilience with live Russian military radio communications in Donbass provided by the WebSDR from the University of Twente in the Netherlands.
According to Save Ukraine's Svetlana Shevchenko, "All recent information gathered by Western and Ukrainian intelligence points to the probability that Russian forces will mount a major land and air offensive against the parts of Donbass still controlled by the Ukraine government, starting on or around April 13 -14 and continuing until May 9, when Russians traditionally celebrate the Soviet victory over Nazi Germany in World War II.
"President Zelensky, as well as Russian Southern Command both agree it will be the largest and most brutal land war in Europe since 1945. Putin is desperate for a victory, and will pour everything he has into the effort."
"But combining daily updated mapping with live Russian military radio communications allows hundreds or thousands of citizens to inform civilians in Donbass, and around the world exactly what is going on, and when" says Save Ukraine's John Toomey.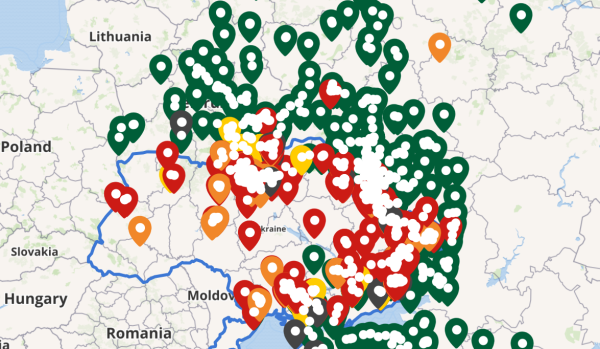 "The Russians, for some reason, are still using analogue radio communications which are not encrypted, and anyone can listen to them online by going to https://www.reddit.com/r/ukraine/comments/t39toj/you_can_listen_to_russian_troops_talking_to/.//www.reddit.com/r/ukraine/comments/t39toj/you_can_listen_to_russian_troops_talking_to/.
When combined with the up-to-date mapping by the Center for Information Resilience, at:
https://maphub.net/Cen4infoRes/russian-ukraine-monitor,
you can accurately predict movements of personnel, armaments, mobile armor, missiles, and fighter jets".
"While it's true that the Ukraine Military has excellent updated intelligence on Russian movements, our program is aimed at civilians in both Ukraine and Russia" says the group's Oleg Kravchuk. "We can post the information live on thousands of Russian social media accounts including VKontakte, OdnoKlassniki, Moi Mir, and Telegram so that millions of Russians can know EXACTLY what their government means by "Special Military Operation". WE know that what this term really means is "endless slaughter of thousands of Ukraine civilians", but we find the best way to inform Russian citizens is through accurate mapping and audio data, combined with field-generated cellphone photos and videos. In fact we invite Russians themselves to do the same monitoring. It's important that they see what's happening with their own eyes and ears."
With most modern laptops, tablets, and cellphones, participants can monitor the updated maps on their screens, while the unencrypted Russian radio communications play simultaneously, making the tracking relatively easy, says the group.
The Russia-Ukraine Monitor Map is a crowdsourced effort by Center for Information Resilience (https://twitter.com/Cen4infoRes), Bellingcat, Conflict Intelligence Team, Advance Democracy and the wider open source community to map, document and verify significant incidents during the conflict in Ukraine. Wide Band WebSDR has been created by the Faculty for Electrical Engineering, Mathematics and Computer Science at the University of Twente in Enschede, Netherlands.
To join the project visit Save Ukraine at Saveukraine.network.
Svetlana Shevchenko, John Toomey, SaveUkraine.network
Media Contact
Company Name: Save Ukraine Network
Contact Person: John Toomey
Email: Send Email
Telephone: (818)275-4882
Address:3129 Quimby St.
City: San Diego
Country: California 92106
Country: United States
Website: https://saveukraine.network