Janes delivers persistent monitoring of Russian troop and equipment sightings that connects the unit from the ORBAT, location, source data, exercise and mission (where relevant known), equipment with associated numbers, vessel ID, tail numbers, ground vehicle markings and estimated sighting date . Below are a series of recent analysis pieces focusing on Russian troop movements on the border with Ukraine, that leverage the data collected, structured, verified and interconnected by Janes to enable a more detailed assessment of Russian military force movements and capabilities.
Or to view our latest news and analysis on the Ukraine crisis, click here.

Analysis of Ukraine Crisis. March 2
Janes analyst Tom Bullock delivers analysis on the events in Ukraine.
Russian forces' positions in Ukraine as of 09:00 1 March
Click to enlarge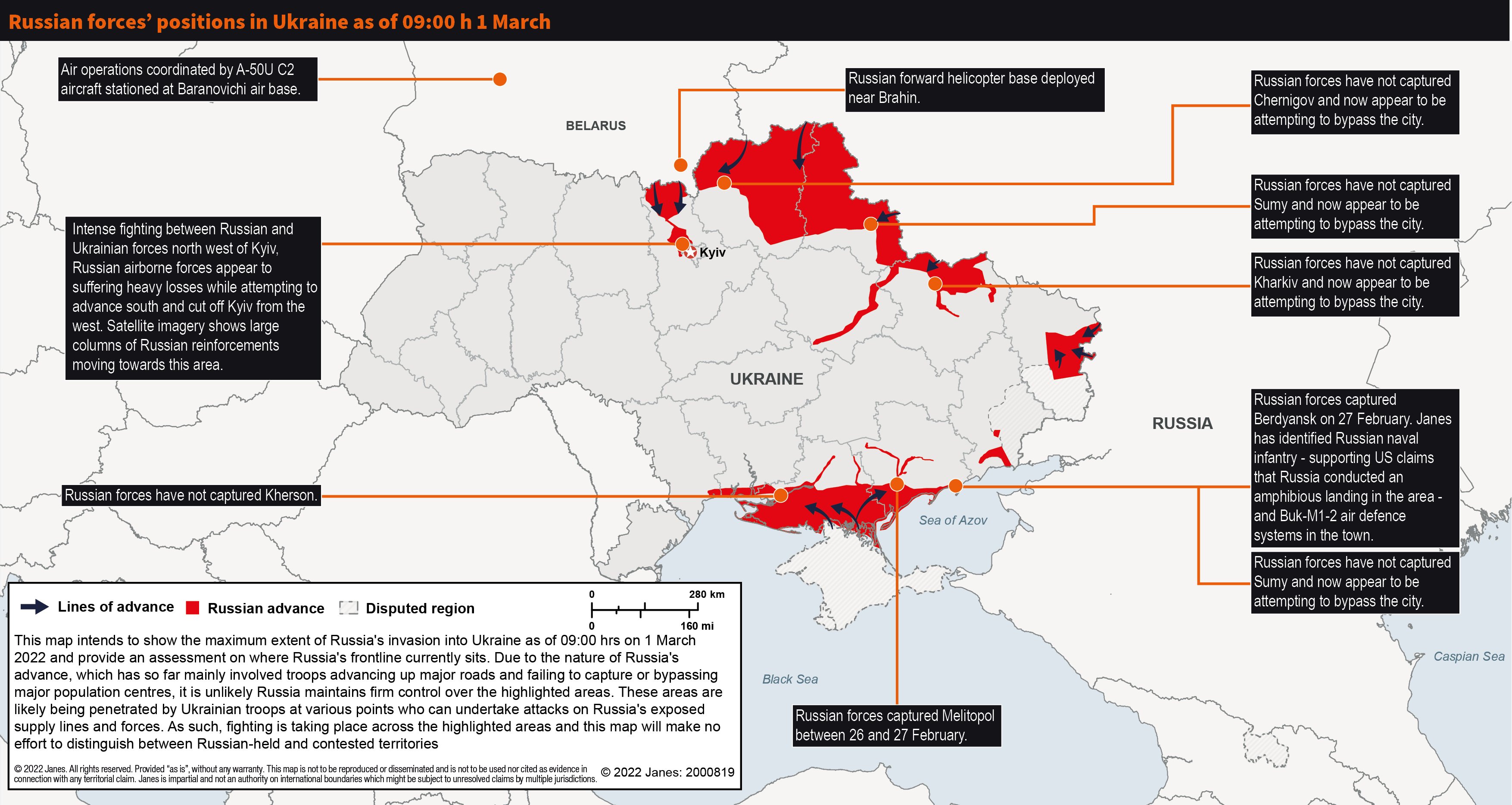 Ukraine Conflict: Equipment Handbook
This PDF gathers Janes reference data for indigenously developed equipment involved in the Ukraine conflict in a single document. There is a significant overlap in equipment types in common service with Russian and Ukrainian forces, so this document collates the information by domain – Air, Land, C4ISR and Weapons – in line with the Janes reference portfolio. The information in this document is a fraction of the content available to Janes subscribers, who can access the full specifications and data via links embedded in the document. It is intended to be a quick reference document, indicative of the type of content covered by Janes and is not intended to be a comprehensive list of equipment in service with either force.
Russian forces' positions in Ukraine as of 15:00 25 February
Click to enlarge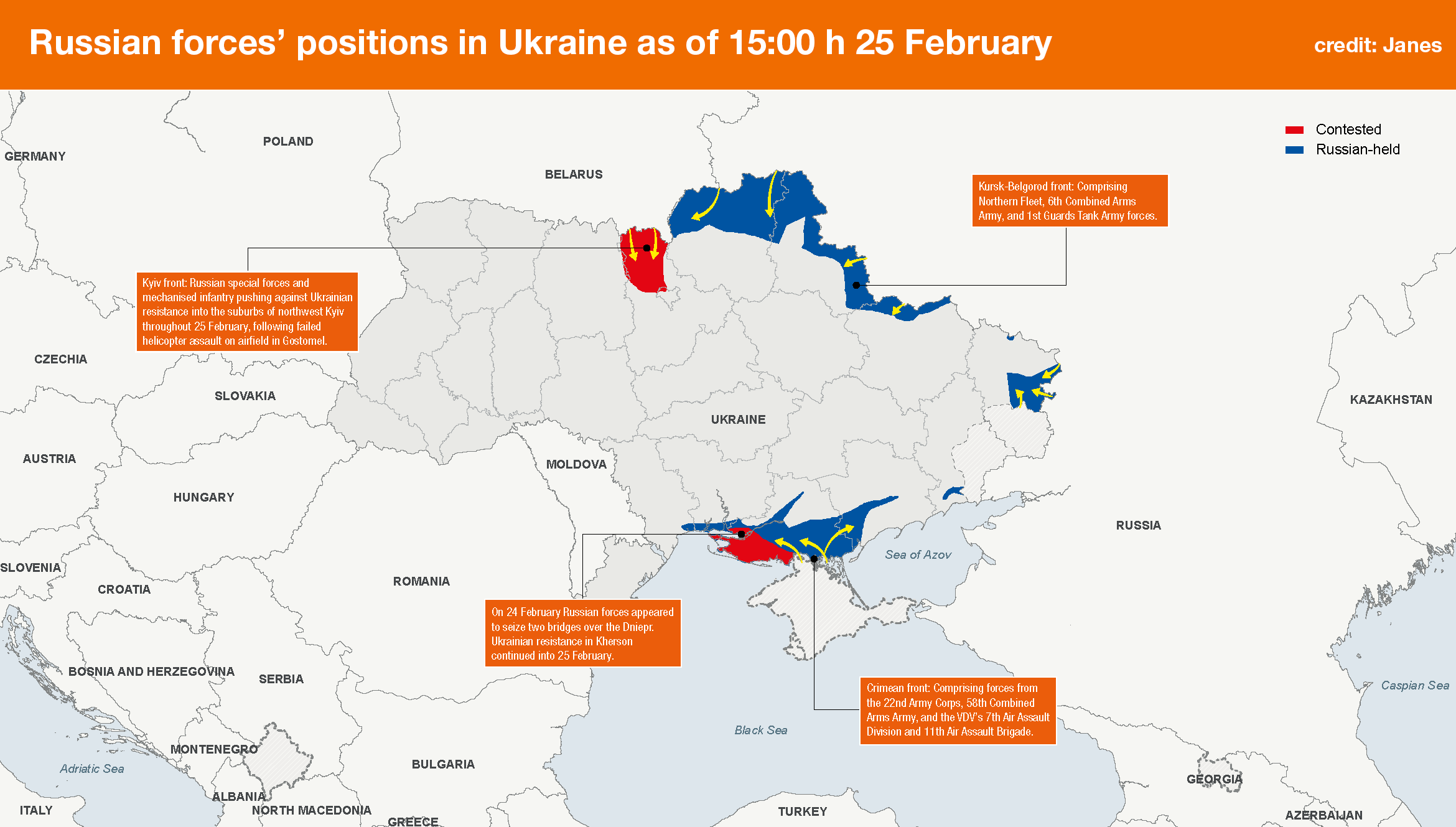 Behind the veil: Information warfare in Ukraine paves a shadowy path to war
25 February 2022
Tensions have been rising in eastern Europe since late 2021 when Russia began amassing troops on the border of Ukraine, a former member of the Soviet Union. Michael Carpenter, the US ambassador to the Organization for Security Co-operation in Europe, detailed on 18 February that 169,000–190,000 Russian personnel had moved to the border, up from previous estimates of 150,000 Russian personnel. Read more
Map: Russian air and missile strikes against Ukraine, 24 February
Click to enlarge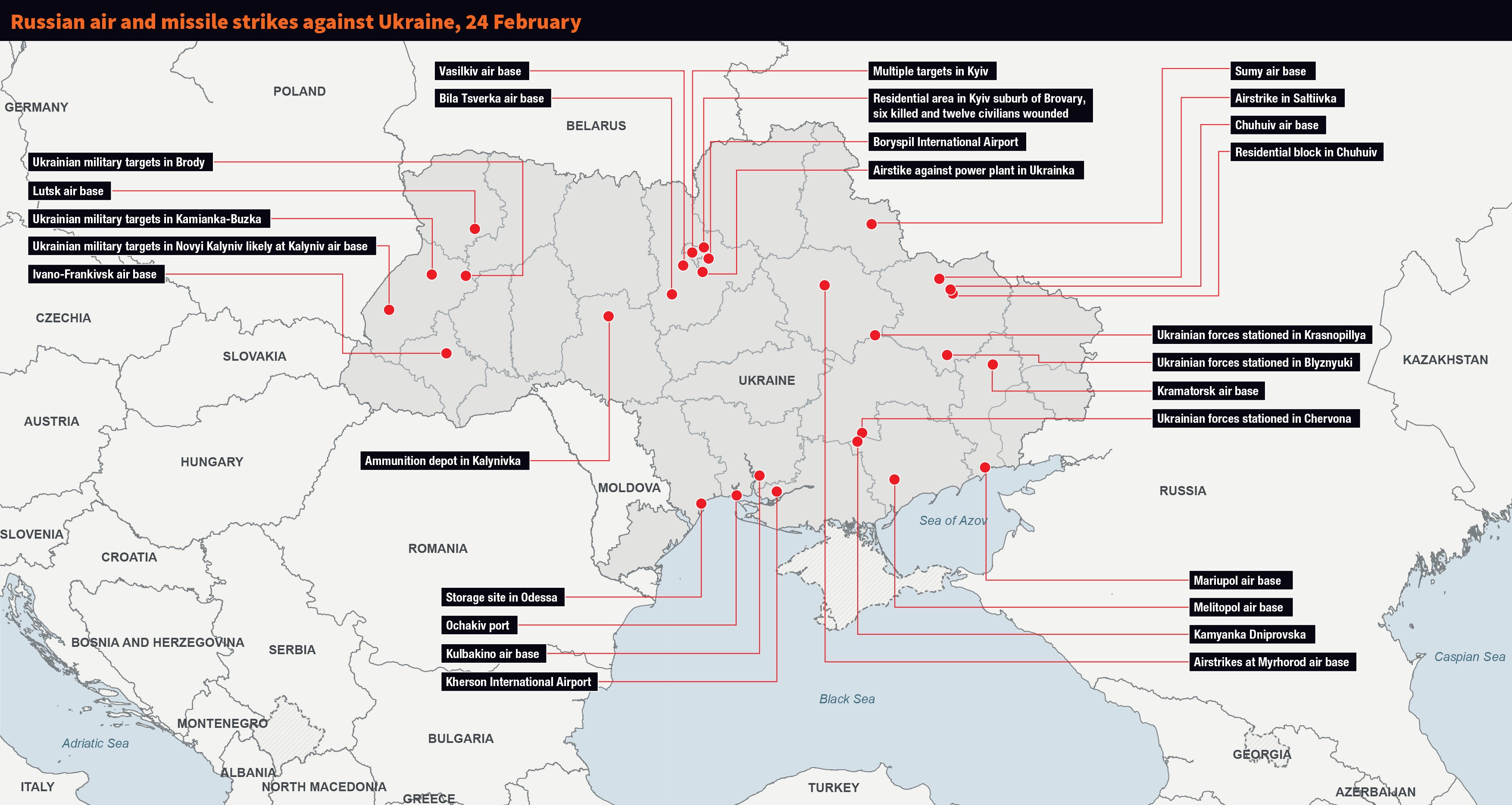 Intelligence podcast: Russia / Ukraine – Coming of Age for OSINT?
25 February 2022
In the latest episode of The World of Intelligence podcast, we speak to Thomas Bullock, Senior Russia and CIS OSINT Analyst at Janes and Christian Haimet, Country Intelligence Analyst at Janes, about the real-world utility of OSINT. Listen here
Video Demonstration: Using Janes Intara to build a common intelligence picture: Russian build up on the Ukrainian border
24 February 2022
Janes delivers persistent monitoring of Russian troop and equipment sightings, leverages Janes assured equipment and military unit data to offer an in-depth view of military activity. The ability to integrate your own and third-party data with Janes assured open-source intelligence using Janes Intara ensures that analysts can utilize all relevant and available OSINT or classified sources, with each source enriching the others. This ability to form a uniquely comprehensive foundational intelligence picture results in faster and more insightful analysis for decision makers and operators. View demonstration
The Ukraine Crisis – A Failure of Deterrence or Just the Kick the West Needed?
24 February 2022
As increasingly belligerent rhetoric by NATO and EU leaders declares that their nations have never been more united over the Ukraine crisis, and that Russia will pay dearly for its actions in the form of unprecedented economic sanctions, Putin's forces continue unabated to deploy into separatist controlled areas. of Ukraine. Just under the surface, western allies are struggling to maintain the visage of unity. The UK Prime Minister, under pressure in the House of Commons for the limited nature of the economic response, let slip that he was prioritizing 'unity with our allies' over sanctions. The declaration by the German Chancellor, Olaf Scholz, that the certification of the Nord Stream 2 project would not now go ahead, while clearly very welcome, came as somewhat of a surprise, further underscoring differences in national responses to Russian aggression. Read more
Russia announces drawdown but continues to move forces close to Ukrainian border
16 February 2022
The withdrawal of some units identified by the Russian MoD, such as the 3rd and 150th Motorized Divisions, also matter very little. Both of these units are permanently stationed well within 250 km of the Ukrainian border and could easily move back to forward positions at short notice.
Moreover, there are no indicators that a large-scale drawdown has begun. Russian actions, specifically the movement of Western Military District assets in Belgorod, Central Military District forces in Bryansk, and Eastern Military District forces in southeastern Belarus, are inconsistent with a drawdown, with all forces appearing to be moving closer to the Ukrainian border. Some recent footage posted on social media also indicates Russia is still moving forces west towards the border from deeper inside Russia.
Learn more
Russia continues military build-up on the Ukrainian border
3 February 2022
Russia's military build-up in Belarus and along the Ukrainian border has continued unabated over the past 14 days. Social media indicates the frequency of deployments has increased, with daily sightings of equipment on the move at their highest since the build-up began in October 2021.
Eastern Military District (EMD) ground forces have fled deploying to several sites in Belarus, mainly along the country's southern border with Ukraine. S-400-air defense systems have also fled to arrive, and the Janes assessment is that one of the battalions – likely belonging to the 1529th Air Defense Regiment stationed in Khabarovsk – has been unloaded at Luninets railway station, about 50 km from the Ukrainian border.
Learn more
Russian build-up on Ukrainian border enters new stage
25 January 2022
Following a relative lull in activity after 1 January, the armed forces appear to have entered their highest level of activity and movement since the autumn-winter build-up began in late October.
Evidence indicates activity from all of Russia's major regional commands, and Moscow has also signaled that it will move a large number of surface vessels, including six landing ship tanks (LSTs), a cruiser, and a destroyer, into the Mediterranean Sea, where they could easily continue into the Black Sea. Learn more
Russia builds up forces on Ukrainian border
9 December 2021
The military appears to be transporting more difficult-to-move equipment such as tanks and artillery to forward positions and establishing the capability to deploy troops and logistics elements into position quickly if needed.
This enables the deployments to keep a relatively small footprint. They are also less taxing on the troops who do have to remain in camps over the winter, and it leaves Russia with the ability to react quickly and covertly if it so chooses. Learn more
Russia moves equipment to Crimea, continues to activate other units
18 November 2021
Russia has deployed elements of at least three units to Crimea since 12 November. They are equipped with armored personnel carriers (APCs), self-propelled howitzers (SPHs), anti-aircraft missile systems, and main battle tanks (MBTs).
Analyzing footage posted on social media of military equipment being moved by train, Janes has identified the deployment of at least a battalion tactical group of the 49th Combined Arms Army's 34th Motorized Brigade (Mountain) equipped with MT-LB APCs and 2S1 Gvozdika SPHs and, what are likely to be… Learn more
Russian 1st Guards Tank Army equipment spotted in Voronezh
11 November 2021
Russia has deployed at least 60 tanks, supported by infantry fighting vehicles (IFVs), and self-propelled howitzers (SPHs) from the Moscow area to Maslovka railway station south of the city of Voronezh and less than 250 km from the Ukrainian border.
During the spring 2021 build-up on the Ukrainian border, Maslovka railway station was one of the main stations used by the Central Military District (CMD) forces deploying from Siberia to the Voronezh region. Learn more
Central Military District pulls more equipment from vehicle stores on Ukrainian border
28 October 2021
The Russian Central Military District (CMD's) 41st Combined Arms Army has begun withdrawal equipment from the Pogonovo training ground south of Voronezh city and loading it on to trains at Maslovka railway station.
Video and imagery sourced from social media and analyzed by Janes has revealed the loading of large quantities of equipment at Maslovka railway station, including 2S19 self-propelled guns, T-72BM and T-72B1 main battle tanks, and BMP-1 infantry fighting vehicles . Janes has also been able to confirm that equipment belonging to the 41st Combined Arms Army's 35th Motorized Brigade has been loaded on to trains at Maslovka. Learn more