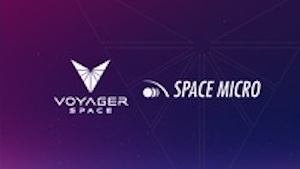 SAN DIEGO (Voyager Space PR) — Space Micro Inc., powered by Voyager Space, today announced the successful performance of its Software Defined Radios (SDRs) on Missile Defense Agency's (MDA) CubeSat Networked Communications Experiment (CNCE) Block 1. Initially launched in June 2021 and completed in March 2022, CNCE Block 1, which is part of MDA's Nanosat Testbed Initiative (NTI), used small, low-cost satellites to demonstrate networked radio communications between nanosatellites while in orbit.
MDA deployed two CubeSats developed by Space Micro with integrated radio frequency (RF) payloads based on its μSDR-C™ family of small form factor software defined radios. MDA tested Space Micro's SDRs at various distances, formations, and orientations, all of which successfully communicated with each other and ground nodes. This demonstration helps support the development of US missile defense technology and architecture.
SDRs can be re-programmed on orbit making them desirable in today's rapidly changing world. Space Micro designed these particular radios, which are a precursor to the Company's successful Nanocom family of SDRs, with the additional ability to create and operate within an ad-hoc communication network, similar to a terrestrial Wi-Fi network.
"We are proud to support MDA as they bolster our national defense, and to further demonstrate the capabilities and reliability of our RF radio frequency payloads for inter-satellite communications," said David R. Czajkowski, Space Micro CEO.
"The Space Micro team continues to demonstrate flight-proven solutions that provide value to our national defense capabilities," said Matt Kuta, President and COO of Voyager Space. "This successful demonstration of SDR technology is a critical step forward for the future of in space communications."
MDA retired the Block 1 satellites in March 2022 and they will de-orbit and burn up harmlessly in the atmosphere.
Space Micro's SDR product line includes several models: The µSDR-C™ targets UHF, S-Band, L-Band and low C-Band applications, the more powerful Nanocom™ targets higher frequency, higher data rate, and more processor intensive RF applications, and the µXBT™ X-Band Transponder is slated for several Artemis programs. Space Micro legacy S-, X- and Ka-Band radios are on orbit today on NASA IRIS, an observation mission of the solar atmosphere and NASA TESS, an exo-planet survey mission to provide prime targets for the James Webb Space Telescope.
About Space Micro Inc.
Space Micro Inc., powered by Voyager Space and based in San Diego, CA, is an engineering-driven supplier of affordable, high-performance, radiation-hardened communications, electro-optics, and digital systems for use in commercial, civil, and military space applications around the world. Space Micro solutions include Telemetry, Tracking and Command (TT&C) transmitters, mission data transmitters, space cameras, star trackers, image processors, Command & Data Handling (C&DH) systems and laser communications systems.
About Voyager Space
Voyager Space is a space technology company dedicated to building a better future for humanity in space and on Earth. With nearly 20 years of spaceflight heritage and over 1500 successful missions as of August 2022, Voyager delivers space station infrastructure and services and technology solutions to commercial users, civil and national security government agencies, academic and research institutions, and more, with the goal to accelerate a sustainable space economy.