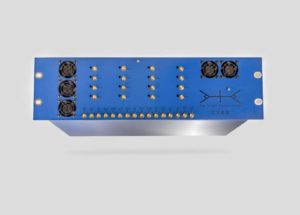 Called Cyan, it's a quad-band direct-conversion transceiver built around an Altera Stratix 10 FPGA with a built-in quad-core Arm Cortex-A53 MPCore processor, "providing the highest instantaneous bandwidth of any SDR," according to the company.
There is a 16bit 1Gsample / s DAC on each transmitting circuit and a 16bit 1Gsample / s ADC on each receiving circuit, with options to extend these to 3Gsample / s.
The clock speed is stabilized by 10ppb 10MHz OCXO, and data return between the radio and other equipment is supported by four 40Gbit / s QSFP + connections.
Deterministic phase coherence and latency are required, with digital down and up conversion of the FPGA, and over 16 GHz RF bandwidth is available when all 16 radio bands with maximum bandwidth are used.
"Cyan is what we believe to be the best commercial SDR," a company spokesman told Electronics Weekly. "We offer a number of SDRs, including Cyan. They are available as basic COTS models, but can be customized to meet the specific needs of our customers. "
Includes web interface and UHD compatibility, comes in a case measuring 483 x 402 x 133 mm 3U and weighs 6.2 kg.
Applications in radars, satellites, ground stations, low latency connections, test and measurement are expected.
Headquartered in Toronto, Canada, Per Vices develops and uses software-defined radio platforms for defense, civil, space, medical, telecommunications, broadcasting and wireless management.