Android mobile devices can receive DRM digital radio
Published: April 20, 2021
Starwaves and Fraunhofer IIS has announced an Android app that allows it to receive Digital Radio Mondiale broadcasts on mobile devices when used in conjunction with an RF dongle.
"Starwaves enables Android phones and tablets to receive entertainment, text information and emergency alerts via DRM Digital Radio – without expensive data plans, regardless of the availability of the mobile phone network and based on the innovative Fraunhofer technology." says in a Starwaves message.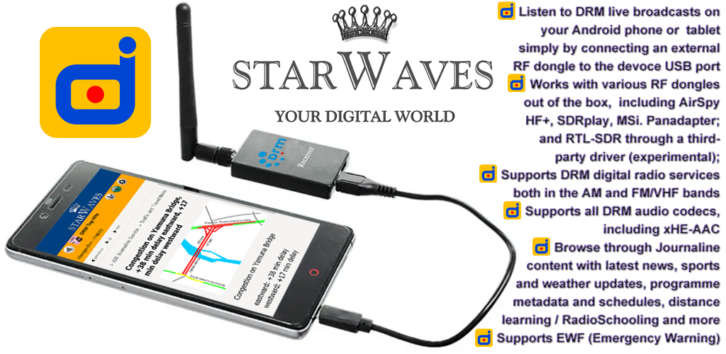 The company has been active in DRM radios for years. Johannes von Weissenhof is the founder of Starwaves, which was founded in Germany in 2005 and subsequently moved to Switzerland. Its early products included Starwaves Prelude, DRM-DAB receiver and Carbox, automotive DRM-DAB with analog shortwave. The company also participated in the first African DRM test in the FM band in South Africa.
[Related: "Sinclair, Fraunhofer Will Integrate DRM in ATSC 3.0"]
The new application provides listeners with access to the DRM digital radio standard in all transmission bands from DRM longwave to FM band and VHF band-III. The app is available in Google and Amazon Android app stores.
The application supports DRM features such as an alert function, image slideshows, station logos and service descriptions, including Unicode support.
"To provide all of these services, the app only requires a standard SDR RF dongle that is attached to the device's USB port," it said.
The largest market for DRM is India, where it is heard on medium waves and has recently been tested for possible use in the FM band. The DRM consortium recently closed its General Assembly, which also reports on projects in Indonesia and Pakistan, as well as a DRM process for FM in Russia and another for shortwave in Brazil.