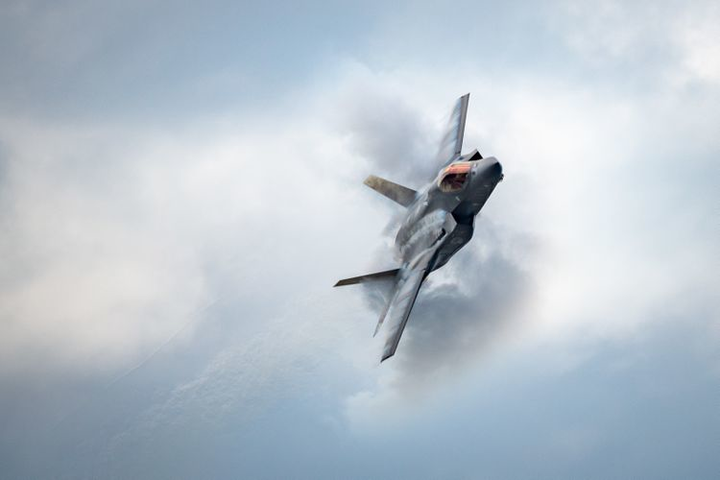 Northrop Grumman, in close collaboration with BAE Systems and Lockheed Martin, will enable new functionality to protect the F-35 Lightning II aircraft.
Photo of the US Air Force by senior aviator Alexander Cook
NASHUA, NH – United States Ministry of Defense (DOD) uses technological advances to keep obsolete aircraft viable in the 21st century as the military introduces fifth-generation fighters and takes steps to break through the sixth generation.
This March, the US Air Force officially adopted the first F-15EX at Elgin Air Force Base in Florida. USAF plans to acquire 144 of the Boeing aircraft to replace its F-15C / D models, which have an average age of 37 years.
"This is a big moment for the Air Force," said Col. Sean Dori, head of the F-15EX program at the Fighter and Advanced Aircraft Directorate of the Air Force Life Cycle Management Center, which is responsible for acquiring, upgrading and maintaining the aircraft. "With its large weapon capacity, digital backbone and open architecture, the F-15EX will be a key element of our tactical fleet and will complement 5th generation assets. In addition, it is capable of carrying hypersonic weapons, giving it a niche role in future conflicts nearby. "
Lockheed Martin's fifth-generation F-35 Lightning II received new combat capabilities as part of a collaboration between Lockheed, Northrop Grumman and BAE Systems.
Northrop Grumman's ICNI system provides F-35 pilots with more than 27 fully integrated operational functions. Using industry-leading software-defined radio technology, Northrop Grumman's design allows multiple critical functions to work simultaneously, while significantly reducing the size, weight and power of the advanced F-35 fighter. These features include Friend or Enemy Identification (IFF), automatic receipt of flight points, and various voice and data communications, such as Multifunctional Extended Data Connection (MADL).
BAE Systems' AN / ASQ-239 is an advanced, proven e-war package that provides fully integrated radar warning, targeting support and self-defense to detect and defeat threats and allows the F-35 to reach well-protected targets.
This spring, Lockheed Martin's Skunk Works, the Missile Defense Agency and the USAF have announced that the U-2, five F-35s and F-22s are capable of demonstrating fifth-generation to fifth-generation communication capabilities in a variety of domains, as the aircraft provides real-time data. time for ground operators.
Called Project Hydra, the latest flight test uses an Open Systems Gateway (OSG) payload aboard the U-2 to connect the F-22 to five F-35s via a native in-flight data connection (IFDL) and a multi-function extended data connection. (MADL), successfully sharing data between all aircraft and with ground nodes. Target tracks were also transmitted from and through U-2 in fighter avionics and pilot displays.
"Project Hydra notes for the first time that two-way communications have been established between 5th generation aircraft in flight, while sharing operational and sensory data to ground operators for real-time capabilities," said Jeff Babione, vice president and general manager. manager, Lockheed Martin Skunk works. "This next-level connectivity reduces the chronology of decision-making data from minutes to seconds, which is crucial in the fight against today's adversaries and advanced threats."
Project Hydra's efforts also marked the first time that data from the F-35 sensor was delivered to an operating ground system via a tactical network targeting (TTNT) link via an airlock. These data were then sent to the US Integrated Combat System (IBCS) Air Sensor Adaptation Kit (A-Kit), also developed by Lockheed Martin. The A-Kit then transmitted data to the IBCS Tactical System Integration Laboratory (TSIL) in Fort Bliss, Texas. IBCS uses data from the F-35 sensor to conduct a simulated exercise for army fires.
Northrop Grumman, Lockheed Martin's Skunk Works and Boeing's Phantom Works are among the companies currently working hard to build a prototype for sixth-generation aircraft.
The Air Force has not yet decided on a platform or set of technologies, but they are still going beyond the conceptual realm and exploring weapons, sensors, networks and other technologies.
The Air Force is making progress with its sixth generation aircraft initiative, called Next Generation Air Dominance (NGAD). This has been largely conceptual for years, but now Air Force officials say current prototypes and demonstrations inform which avionics and other technologies the service will invest in in the future.
Senior Air Force officials said an analysis of the alternatives had been completed and work on the requirements was ongoing. The work includes various models and efforts to study crucial hardware and software for on-board computers.