According to a new report published by Grand View Research, Software defined radio (SDR) continues to evolve technologically as it helps in the transmission and reception of long-range signals with high frequency. It provides advantages while addressing issues pertaining to the limitations of spectrum and wireless communications.
Software Defined Radio Industry Overview
The global software-defined radio market size was estimated at USD 20.4 billion in 2019 and is expected to reach USD 39.6 billion by 2027, registering a CAGR of 8.7% over the forecast period. An increase in defense expenditure to improve defense communication systems is a major factor driving the demand for software-defined radio systems. In addition, the market for global software defined radio (SDR) has witnessed considerable growth owing to the increasing need for communication devices to be more flexible and software configurable. Moreover, SDR is widely adopted in space communication as it improves the performance of the satellite and can operate across several frequency bands in a precise manner.
SDR enables users to receive signals from multiple mobile standards such as WiMAX and GSM. To fulfill the growing demand for higher data speed that require additional hardware costs on the core network, mobile operators are adopting SDRs. Software-defined radio systems help improve connectivity solutions by eliminating hardware constraints. Moreover, SDR and Network Function Virtualization (NFV) are expected to play a major role in the integration of different communication technologies. The 5G radio access is based on SDR / NFV infrastructure, which is another factor driving the market for software-defined radio systems.
Gather more insights about the market drivers, restrains and growth of the Global Software Defined Radio Market
The increasing penetration of IoT and wireless devices positively impacts the market for software-defined radio. In 2017, there were around 30 commercial deployments of NB-IoT and LTE-M in 20 countries, including the US, China, and Europe. The GSM Association estimates that by 2025, the number of IoT-connected devices would reach 3.1 billion globally, amounting to 12.0% of the total IoT connections globally. In addition, the growing popularity of wireless sensor networks is anticipated to drive the demand for SDRs.
An increase in the spectrum range for wireless communications is a major trend observed in recent years. The inception of the 3rd Generation Partnership Project (3GPP) under the telecommunications organizational partnership calls for rapid deployment of LTE and LTE-Advanced commercial wireless technology, subsequently driving the demand for SDRs. While LTE technology is currently used between 450 MHz to 3.8 GHz, it is expected to cross 5 GHz in the near future. Moreover, software-defined radio is used in applications such as radio frequency spectrum analyzers and global positioning systems.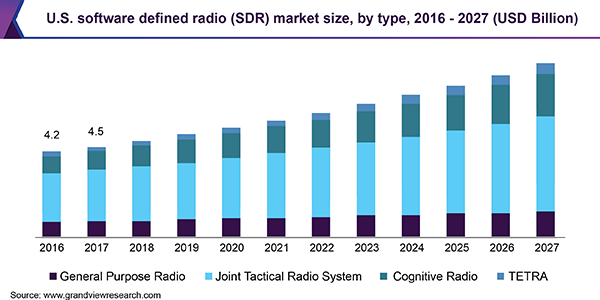 Advancements in cellular infrastructure technology have undergone developments such as changes in RF amplifier technology. For instance, smartphone designs have the potential for the implementation of technologies such as surface acoustic wave (SAW) and bulk acoustic wave (BAW). The pricing factor for these has also been relatively narrowed due to low power filter requirements and confined fractional bandwidth. A disadvantage of using software-defined radio technology is the development of a software-defined radio with hardware and software platform, which is expensive. The conversion of analog to digital may also limit the top frequencies present in the digital section.
Software Defined Radio Market Segmentation
Based on the Type Insights, the market is segmented into General Purpose Radio, Joint Tactical Radio System, Cognitive Radio, and TETRA.
The JTRS segment dominated the market for software-defined radio in 2019. The technology is widely adopted in the defense sector since it comprises multi-mode / multi-band pre-emptive radio sets that enable simultaneous voice and data communication capacities to the warfighter.
Terrestrial trunked radio (TETRA) is an open digital private mobile radio standard in the international market. It contains high functionality for emergency services and is suitable for commercial trunked radio users.
Based on the Component Insights, the market is segmented into Hardware, Software, and Service.
The hardware segment dominated the market for software-defined radio in 2019 owing to the growing popularity of portable SDRs. The hardware segment is driven by the combination of analog and digital technology on a single chip, which is a major factor contributing to the reduction in weight and size.
The software component segment is expected to witness significant growth owing to increasing use in commercial applications. The software in SDR is used to define its specifications and functions.
Based on the Frequency Band Insights, the market is segmented into HF Band, HF Band, UHF Band, and Others.
High-frequency SDR systems are used for tactical communication with the help of IP systems. IP systems provide benefits such as reduced transaction costs and enhanced end-user experience, subsequently driving the demand for next-generation IP systems with integrated software-defined radio systems.
Ultra High Frequency (UHF) bands are used for commercial applications such as cellular systems and 5G networks. Owing to the need for wide area coverage, UHF SDRs are used to provide uninterrupted services to customers.
Based on the Platform Insights, the market is segmented into Ground, Naval, Airborne, and Space.
Ground-based SDR systems dominated the market for software-defined radio in 2019 as they find a wide range of applications for tactical military communication in space and military sectors.
Airborne SDR is a high-rate data communication system, which is widely used for military and civilian applications. Various companies such as Collins Aerospace and L3 Harris Technologies are integrating SDR technology solutions with existing airborne applications, making them cost-effective, secure, and mission critical.
Based on the End-Use Insights, the market is segmented into Aerospace & Defense, Telecommunication, Public Safety, Commercial, and Others.
The SDR market has been segmented into aerospace and defense, telecommunication, public safety, commercial, and others. SDR is widely used in the defense sector owing to its greater functional scope.
The commercial segment is estimated to register the highest growth rate over the forecast period owing to the rising adoption of SDR across industries such as automotive and transportation.
Based on the Software Defined Radio Regional Insights, the market is segmented into North America, Europe, Asia Pacific, Latin America, and MEA.
North America dominated the software-defined radio market in 2019, mainly owing to the Joint Tactical Networking Center (JTNC) program, which provides technical support for wireless communication systems to the US Department of Defense.
The Asia Pacific market for software-defined radio systems is projected to witness the highest growth over the forecast period owing to the rise in terrorism in Asian countries such as Bangladesh, Pakistan, and Afghanistan.
Browse through Grand View Research's Next Generation Technologies Industry Research Reports.
Voice And Speech Recognition Market – The global voice and speech recognition market size was valued at USD 14.42 billion in 2021 and is anticipated to grow at a compound annual growth rate (CAGR) of 15.3% from 2022 to 2030. The market is anticipated to be driven by technological advancements and the rising adoption of advanced electronic devices.
Development To Operations Market – The global development to market size operations was valued at USD 7,481.1 million in 2021 and is expected to expand at a compound annual growth rate (CAGR) of 20.7% from 2022 to 2030. Increasing adoption of cloud technologies, fast application delivery, advancements in artificial intelligence, and software automation are the factors expected to drive the growth of the DevOps market.
Market Share Insights:
April 2019: L3 Technologies, Inc. merged with Harris Corporation to create L3 Harris Technologies, Inc., a global defense technology company for emphasizes on developing mission-critical solutions.
April 2019: BAE Systems launched its SDR assembly for space applications that cater to the requirement of the US Department of Defense.
Key Companies Profile:
Space Research Organizations such as the National Aeronautics and Space Administration (NASA) and the European Space Agency (ESA) focus on the development of radiation hardened electronic components that can withstand high radiations, which are used for space signal transmission in software-defined radio systems.
Some of the prominent players in the global software defined radio market are:
Collins Aerospace Systems
Harris Corporation
Elbit Systems Ltd.
L3 Technologies, Inc.
BAE Systems
Huawei Technologies Co., Ltd.
Datasoft Corporation
Raytheon Company
Northrop Grumman Corporation
Order a free sample PDF of the Software Defined Radio Market Intelligence Study, published by Grand View Research.
About Grand View Research
Grand View Research, a US-based market research and consulting company, provides syndicated as well as customized research reports and consulting services. Registered in California and headquartered in San Francisco, the company comprises over 425 analysts and consultants, adding more than 1,200 market research reports to its vast database each year. These reports offer in-depth analysis on 46 industries across 25 major countries worldwide. With the help of an interactive market intelligence platform, Grand View Research Helps Fortune 500 companies and renowned academic institutes understand the global and regional business environment and gauge the opportunities that lie ahead.
Web: https://www.grandviewresearch.com
Media Contact
Company Name: Grand View Research, Inc.
Contact Person: Sherry James, Corporate Sales Specialist – USA
Email: Send Email
Phone: 1888202951
Address:Grand View Research, Inc. 201 Spear Street 1100 San Francisco, CA 94105, United States
City: San Francisco
State: California
Country: United States
Website: https://www.grandviewresearch.com/industry-analysis/software-defined-radio-sdr-market