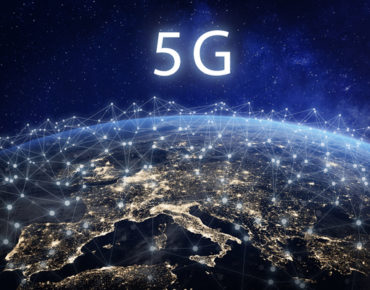 Deepening its ongoing integration of AI and 5G, Nvidia will be giving customers the option to use Arm-based CPUs with its growing Aerial A100 AI-on-5G platform, while also partnering with Google to establish an AI-on-5G Innovation Lab to accelerate the creation of 5G and AI applications.
Both announcements were unveiled June 28 (Monday) at the Mobile World Congress (MWC) event in Barcelona, Spain, which is being held in person for the first time since 2019 due to the COVID-19 pandemic.
Nvidia's coming introduction of Arm-based CPUs to the Nvidia BlueField-3 A100 Data Processing Units (DPUs) used for Aerial is designed to bring more choice to the 5G ecosystem, according to the company, by further enabling global OEMs to deploy more applications and services over 5G using Nvidia's Aerial A100 AI-on-5G platform. Presently, earlier-generation Nvidia BlueField-2 DPUs are used with Aerial and are only compatible with x86 processors from Intel or AMD. The earlier BlueField-2 is a stand-alone DPU, while the BlueField-3 A100 is a converged GPU, DPU and CPU combined on one PCI Express board.
The Arm processors are expected to be available starting in the first half of 2022 on Nvidia BlueField-3 A100 DPUs used with the Aerial A100 AI-on-5G platform, giving customers the choice of Intel or Arm for their hardware in Nvidia-certified, industry-standard servers. The featured Nvidia BlueField-3 A100 DPUs will incorporate 16 Arm Cortex-A78 processors, according to the company, resulting in a self-contained, converged card that delivers enterprise edge AI applications over cloud-native 5G vRAN (virtual Radio Access Network).
"We're bringing together two worlds — AI of computing and 5G of telecommunications — to create a software-defined platform for AI on 5G," Ronnie Vasishta, senior vice president of telecom at Nvidia, said in a statement. "Now supporting Arm, our growing Aerial platform is accelerating AI-on-5G everywhere."
The Aerial AI-on-5G platform was unveiled earlier this year at Nvidia's GTC21 event in April, bringing together the Nvidia Aerial Software Development Kit (SDK) with the then-new Nvidia BlueField-2 DPU and Nvidia Ampere CPUs on one card for use on Nvidia-certified servers. Nvidia AI-on-5G also includes the Nvidia EGX enterprise platform and can be deployed and managed on-premises or managed by hyperscalers including Google Cloud.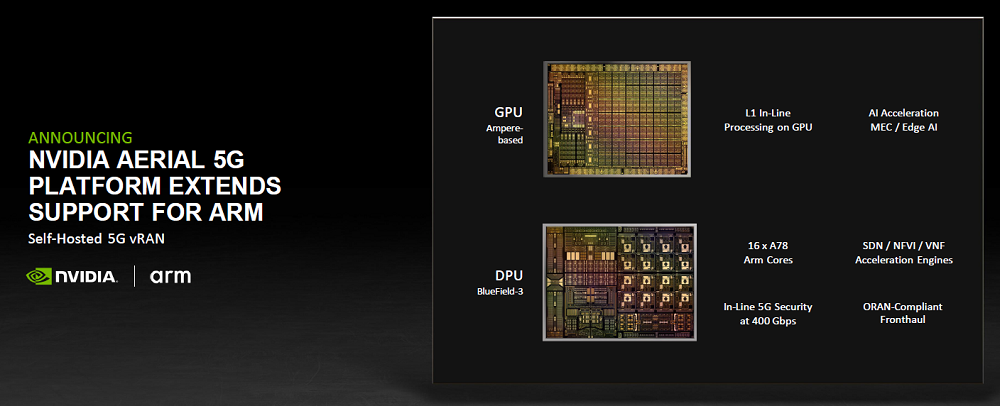 Under Nvidia's product naming structure, the Nvidia BlueField-3 A100 components use the same A100 chip packages found in Nvidia EGX (edge) servers, which are then combined with Nvidia's Aerial AI software developer's kit for software-defined telecom networks. Nvidia's Aerial SDK for 5G vRAN connects the sensors and AI applications to perform inferencing at the network edge.
Built especially for the Aerial A100 AI-on-5G platform, the upcoming BlueField-3 A100 DPUs are being combined with an A100 GPU and a CPU, along with Aerial AI software, to give customers the needed components on one board for edge and telecom uses under the Aerial A100 moniker. The platform is designed to bring data center-like performance to the edge for customers, according to Nvidia.
Nvidia sees the Aerial A100 as a new type of computing platform designed for the edge that will encourage a broad range of new products and services for AI-on-5G for smart cities and factories, advanced hospitals, intelligent stores and more. The platform can be used by enterprises, mobile network operators and cloud service providers to handle both 5G and edge AI computing in a single, converged platform. Users will be able to use the systems to manage precision manufacturing robots, automated guided vehicles, drones, wireless cameras, self-checkout aisles and hundreds of other projects, according to Nvidia.
Nvidia's work in the new AI-on-5G ecosystem includes membership in the O-RAN Alliance, which is developing standards for more intelligent, open, virtualized and fully interoperable mobile networks. These collaborations allow operators to use the same computing infrastructure required for 5G networking to provide AI services in enterprise, industrial and consumer and residential settings.
Nvidia announced last September that is acquiring Arm in a $40 billion deal that is still going through regulatory and other reviews.
This is the first time that Arm CPUs will be used with the Aerial platform, Nvidia enterprise senior communications manager, Cliff Edwards, told EnterpriseAI.
"The whole 5G network is built for low latency and for multiple internet of things devices," said Edwards. "So, if you are thinking about adding AI to that, it is being able to do a lot of inferencing on the edge and then coming back and doing training in the data center. A great example is Tesla. Tesla cars, they are essentially computers with wheels. And with 5G, you can do a lot more with all kinds of devices, with cameras in retail stores, with robots and stuff like that. They become smarter, because you can do all of that without having to constantly upload and download software, which takes a long time. With earlier 4G and 3G, that was impossible."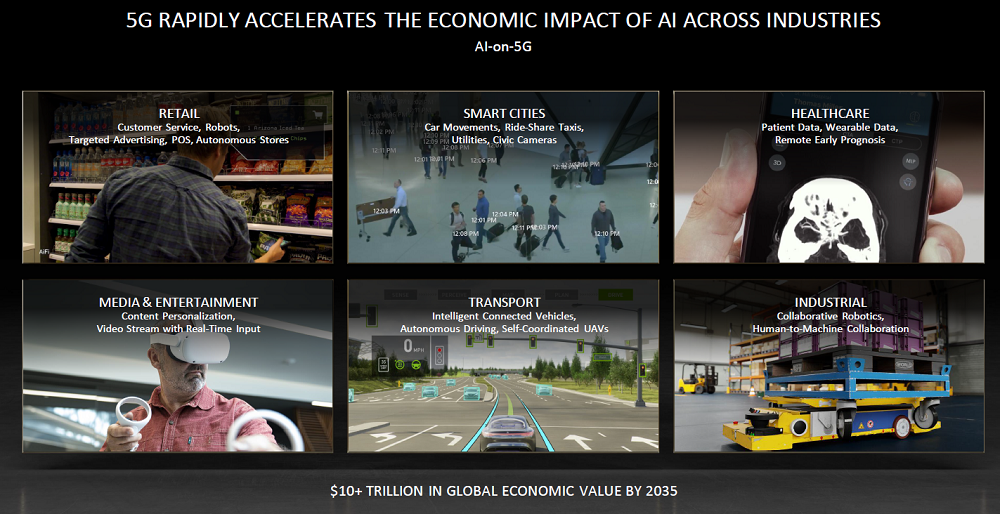 The Arm architecture used in the BlueField-3s can be programmed and reprogrammed, giving customers more flexibility with their applications and services on Aerial, he said.
The BlueField-3 A100 is backed by Nvidia's extensive AI software library and Aerial 5G SDK, which speeds time to deployment and will fuel an array of ultra-low latency enterprise AI projects, including precision robots, automated guided vehicles and digital twins for product development and manufacturing.
By offering the choice of Arm technology with BlueField-3 A100 DPUs, enterprises and network operators will be able to deploy software-defined 5G base stations and AI applications with ease of upgrade of features and performance, according to Nvidia.
BlueField-3 DPUs are multi-tenant, cloud-native environments, offering software-defined, hardware-accelerated networking, storage, security and management services at the edge.
James Kobielus, senior research director for data communications and management at TDWI, a data analytics consultancy, told EnterpriseAI that Nvidia recognizes that this future is fast emerging.
"I am impressed with the extent of Nvidia's investment in these partnerships to position its offerings as go-to platforms for pushing AI to the edge over 5G networks," said Kobielus. "It is clear that every 5G endpoint will eventually have embedded AI capabilities and have those served in real-time over complex cloud environments."
The new Aerial SDK "enables the next generation of AI-over-5G app developers to build intelligence into more powerful vRAN infrastructures that incorporate its forthcoming BlueField-3 A100 and into systems-on-chips on edge devices," added Kobielus. "What is clear from the BlueField-3 A100 announcement is that Nvidia is betting big on broad adoption of Arm-based chip architectures and on self-contained AI-over-5G platforms that combine DPUs, GPUs and Arm-based CPUs to power everything from AI to transactional applications."
These systems are the future, he said.
"My hunch is that these self-contained multi-chip embedded AI-over-5G architectures will become the bedrock of every next-generation vRAN that spans hybrid public/private clouds," said Kobielus. "The performance, scalability and resilience of these chip architectures is essential for 5G to power the future's unimaginably sophisticated distributed/embedded AI applications."
Another analyst, Alan Weckel of 650 Group, said the industry will see more products that are the confluence of AI, accelerators and processes instead of proprietary boxes going forward.
"AI plays an increasing role directly in 5G in areas like real-time interference management and signal integrity," said Weckel. "It also plays further as developers look towards the edge to provide a low-latency experience where inference can occur closer to the consumer."
 Most industry and consumer habits will change significantly because of AI and 5G, he added, while businesses on the leading edge will grow faster or gain market share compared to businesses that stand still.
"Arm has a lot of interesting features, like lower power [needs], that can be really important in edge locations where power and size of constraining factors," said Weckel.
Innovation Lab Partnership with Google
Also making news at MWC 2021 is the Nvidia Google partnership that will establish what they claim is the industry's first AI-on-5G Innovation Lab, which will provide an environment where network infrastructure players and AI software partners can develop, test and adopt applications and technologies to accelerate advanced uses for 5G and AI.
Users of the lab will have access to Google Cloud's Anthos platform and Nvidia accelerated computing hardware and software platforms. Nvidia and Google are expected to begin development of the lab in the second half of 2021.
"The Google Cloud partnership is noteworthy for how Nvidia is helping 5G network operators to connect with their enterprise customers over hybrid public/private clouds," said Kobielus. "Note that Nvidia and Google Cloud are establishing an important R&D lab to accelerate the buildout of their respective AI-over-5G assets for opportunities in smart cities, smart factories, and the like. These use cases are the proving grounds for intelligent 5G ecosystems that, over the course of this decade, will revolutionize everything in our lives."
These and similar efforts, led by Nvidia, Google and other partners, "are building out the on-ramps under which enterprises will orchestrate MLOps directly out to 5G endpoints via Kubernetes vRAN environments that span on-premises, mobile network operator, and public cloud provider networks," said Kobielus. "This will speed the delivery of high-performance AI into every mobile, embedded, and IoT application."
Related